Fangirl Friday: Badass Female Veterans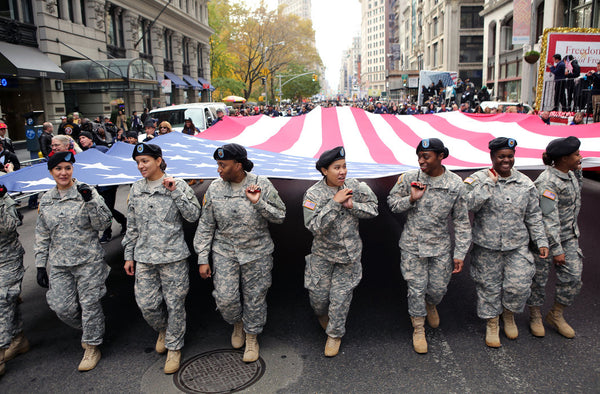 This Veteran's Day, give yourself a moment to thank those who have fought hard to preserve our freedoms. As a woman, take a quick knee and read about some of the women who made an impact in the armed forces and paved the way for women today to enjoy the ability to fight for the stars and stripes.
Army General Ann E. Dunwoody
We give her four stars
General Ann E. Dunwoody was the first female four-star General in the Army. Her largest and more impactful post was as commander of Army Material Command, employing more than 69,000 employees. Upon her retirement, General Dunwoody had this to say:
"…over the last 11 years I've had the honor to serve with many of the 250,000 women who have deployed to Iraq and Afghanistan on battlefields where there are no clear lines, battlefields where every man and woman had to be a rifleman first. And today, women are in combat; that is just a reality. Thousands of women have been decorated for valor and 146 have given their lives. Today, what was once a band of brothers has truly become a band of brothers and sisters." Our hats are off to you, General.
---
Major Charity Adams
Trailblazer who never backed down
Adams was commander of 6888th Central Postal Directory Battalion, the only black Women's Army Corps unit deployed to Europe in World War II. She was the first African-American woman to be commissioned into the Women's Army Auxiliary Corps at Fort Des Moines and faced incredible struggles, but she persevered and fought for our country, paving a new way forward for all the women of color who served after her.
She never backed down. In one interaction, 'when a general stated, "I'm going to send a white first lieutenant down here to show you how to run this unit", then Major Adams responded, "Over my dead body, sir."'
---
Tammy Duckworth
Iraq war veteran and US senator-elect
Duckworth made news this week when she unseated the incumbent senator in the state of Illinois. She has served as a US Representative for the state since 2013 and is the first Asian American woman elected to Congress in Illinois, the first disabled woman to be elected to the U.S. House of Representatives, and the first member of Congress born in Thailand.
She is a decorated war hero who served as a U.S. Army helicopter pilot and suffered severe combat wounds in 2004, losing both of her legs. She was the first female double amputee from the war, but requested a medical waiver after her surgery and continued to serve as a Lieutenant Colonel until her retirement in 2014.
---
Commodore Grace Murray Hopper
Who says girls aren't good at science?
Commodore Grade Murray Hopper is kind of a big deal. She is a naval giant; she not only created COBOL (a programming language), she has a supercomputer and a destroyer (a big, badass boat) named after her. When it comes to computer science, "Amazing Grace" is the only one to call; so much so that when she retired in 1966, the Navy called her back to standardize their computer programs and languages.
She stayed 15 years to complete the job. Not only has she earned countless commendations and over 30 honorary doctorates, but she also coined the term, "a bug in the computer."
---
Harriet Tubman
A true revolutionary
When you think of women who risked it all for all of our freedoms, no one in the world did it more so than Harriet Tubman. The engineer of the Underground Railroad, Tubman ushered slaves to freedom in the 1850's. However, her pioneering spirit doesn't end there. She was a femme Civil War 007 too. She successfully set up an espionage ring for the Union and served as a cook, nurse, and even a spy. She was the first female to lead a military expedition.
Not only did she not lose one soldier, but she also managed to save 750 slaves during her mission. Sadly, she wasn't compensated adequately or appreciated near enough during her time, so let's take up the mantle and give a moment of thanks to the passionate Ms. T.
---
Bea Arthur
Marine First, Golden Girl Second
Before she was the cantankerous and sarcastic Dorothy on Golden Girls, Bea Arthur was an "argumentative" and "over-aggressive" truck driver in the Marine Corps. At age 21, Arthur enlisted in the Marines in 1943 during World War II. She was stationed state-side in Virginia and North Carolina where a Marine interviewer remarked, "Officious—but probably a good worker—if she has her own way."
While she only stayed two years, she rose quickly through the ranks, eventually being honorably discharged in 1945 as a staff sergeant. Surely her Marine discipline helped her stay focused as she pursued acting after she left the Marines. She has an Emmy to prove it.
---
NY Times, Pop sugar, Britannica, Gracehopperfilm, Smithsonian, Vulture, The Smoking Gun,