Fangirl Friday: Rosie the Riveter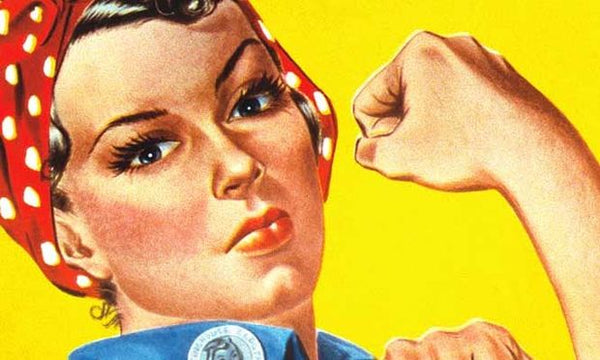 While other girls attend their fav'rite cocktail bar
Sipping Martinis, munching caviar
There's a girl who's really putting them to shame
Rosie is her name
All the day long, whether rain or shine
She's a part of the assembly line
She's making history, working for victory
Rosie (drill noise), the Riveter!
Growing up my mother always had fascination with Norman Rockwell so my first Rosie was his Rosie. As a frequent cover artist for the Saturday Evening Post, Rockwell attempted to give a face to Rosie the Riveter, then the titular inspiration for a heavily covered pop song that was all over the airwaves during 1943. Goggles pushed up, slightly smudged with grease, and eating what I swear is a bologna sandwich, Rosie is as nonplussed of a pin-up as it gets, but she is a pin-up. In a post-Pearl Harbor war, women were being encouraged to lend their efforts to The Effort, so much so that there was even an earlier propaganda poster devoted to it.
This would be the Rosie that launched a thousand Halloween costumes, and rightly so, however initially "Rosie" wasn't really Rosie. Confused? Me too. The woman of the "We Can Do It!" poster is a true mystery. It's likely the artist, J. Howard Miller, used either an in-studio model or a photograph to create the rendering, which had been commissioned by the Westinghouse Company's War Production Coordinating Committee for a rather limited display tour across Pennsylvania and the Midwest. Between the two versions, the song, and the general gumption women felt as they took on a profession that they'd previously been barred from, a zeitgeist that would bleed into generations to come was born. The men had Uncle Sam, but we, we had Rosie.
Over the years she's become an icon for women worldwide, an icon for feminism and dare I say, a certain amount of spunk or sass. While "yes we can" was meant on the national level, it became an anthem for a group previously disenfranchised by the gender employment barrier. In the immediate years that followed the war, the average WOW (Woman Ordnance Worker) returned to the domestic sphere, the liberation and sense of possibility felt during this period of employment would stay in the general consciousness, reigniting in the 70's to become the workforce of today. Truly riveting history.