Women in Film: The Femme Led Films in 2018 That We Can't Wait For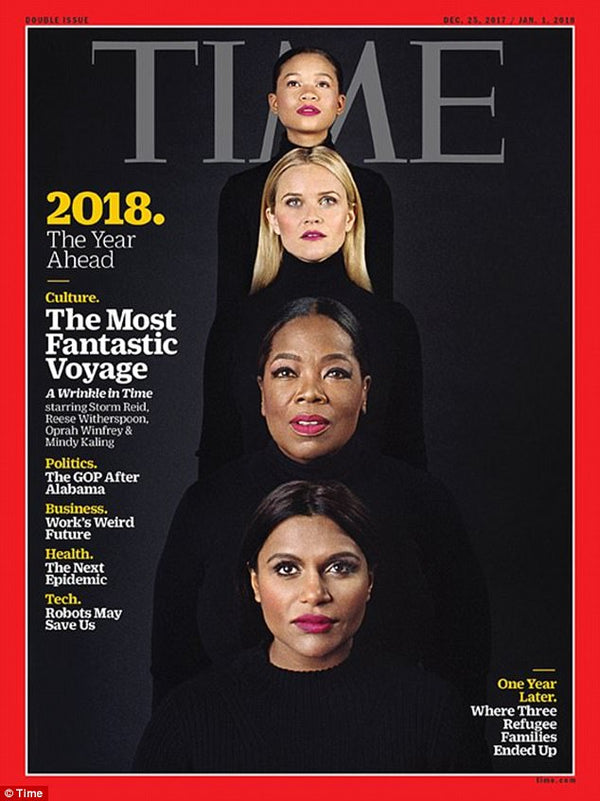 The numbers are out: women in film drove the highest grossing box office sales in 2017 for the first time in 60 years. Thankfully, with the 2018 line-up, Hollywood is doubling-down on female narratives and we can't wait.
Here are just a few of the many female-driven films to catch this year:
Women of Action
This year women are heading up several action thrillers. The mesmerizing, exceptionally talented Taraji P. Henson stars in Proud Mary. Henson plays as a Boston hit woman who turns her life around when she meets a young boy during a professional hit gone awry. Natalie Portman heads up Annihilation as a bad-ass biologist leading four other equally bad-ass women into "The Shimmer" to find out what happened to her injured husband and determine what's going on in general.
Alicia Vikander picks up where Angelina Jolie left off as Lara Croft in the reboot of Tomb Raider. Lara continues the fight against Trinity as she must get to a tomb, aptly called "The Mother of Death," to save the world from certain doom. From the trailer alone, this reboot looks more pro-feminine power and less "appealing to fan-boy (and girl) fantasies" than the last go around, which seems more true to Lara Croft's character.
For the Literarily Minded
The childhood favorite, A Wrinkle in Time, is hitting screens under the directorial guidance of Ava DuVernay, queen of all things beautifully executed. This film has a bevy of female heavy-hitters in the cast including Oprah Winfrey, Mindy Kaling, Reece Witherspoon, and Gugu Mbatha-Raw. Dump your Junior Mints into your popcorn and settle into your ten-year-old self when enjoying this one; the imagery alone is like an imagination gone wild.
Crazy, Rich Asians is the movie I have been waiting for since I devoured the book. Based on the book of the same name, Constance Wu headlines as Rachel Chu, an economics professor thrust into a bizarro-land of wealth and excess when she goes to her boyfriend's best friend's wedding.
Part Two…or Twenty
I can't believe I'm so excited for this next one, but we all need our guilty pleasures. Mamma Mia: Here We Go Again revisits the original cast (Meryl Streep, Christina Baranski, Julie Walters, and Amanda Seyfried), and adds one more, Cher. I repeat, Cher is in the new Mamma Mia (so is Andy Garcia). But Cher, people.
The original Screen Queen, Jamie Lee Curtis, will return in Halloween. All the details are under wraps, but as usual, she'll be squaring off against her obsessive stalker-killer-brother, Michael Myers.
Re-Imaginings: Mixing Up Old Favorites with Some Estrogen
Of course, we can't forget Ocean's Eight, the re-imagined version of the Ocean's franchise with an all-female cast led by everyone's best friend, Sandra Bullock, playing roguish charmer Danny Ocean's equally law-ambivalent sister. Cate Blanchett, Mindy Kaling (dang girl, we see you!), Rhianna, Helena Bonham Carter, Awkwafina, Anne Hathaway, Katie Holmes, Olivia Munn, and Dakota Fanning also join in on the heist. And the by the way, these actors aren't having any of the nonsense the Ghostbuster's female actors had when they rebooted; Ocean's Eight is strapped and ready for the sexist online trolls. Be warned.
What do you get when you mix Anne Hathaway with Rebel Wilson? Nasty Women. This movie is the female re-imagining of the classic Dirty, Rotten Scoundrels. Wilson plays the Steve Martin character and Hathaway the Michael Caine character as con-women on the take.
Make a date with your squad to support women in film so we can continue to see more female narratives and strong female characters in our art.
And make someone brings the big purse to smuggle in the contraband snacks.