Girl Power Playlist: 20 Songs that Will Make You Feel Feminist AF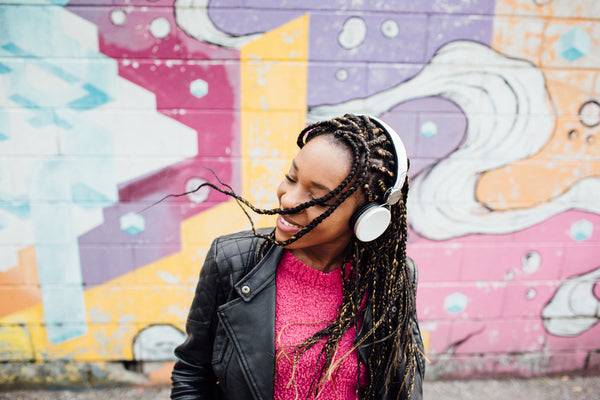 There isn't much more empowering, influential, and motivating than music. In particular, there are 20 songs which top the list as songs that speak toward the strength, courage, and sensuality of a woman. They should be in every woman's playlist.
1. Run the World – Beyonce
Throughout her career, Beyonce has pushed a powerful message of empowerment to women, but this time, she says, "we run this!" It's almost like she is shutting down any argument to the contrary before it even starts, like any Queen would.
2. Just Fine – Mary J Blige
This fun, up tempo song makes you want to dance while basking in the celebration of you. Along with the positive, high energy vibe, the lyrics talk about loving and appreciating your femininity and realizing that you are an unstoppable force of nature.
3. Vogue – Madonna
There's just something about this song that turns every place I'm at when listening to it into a runway. Also, it's the best background pairing for selfie sessions. And the way that she encourages a good time and says, "You're a superstar." It lights up my soul.
4. Superwoman – Alicia Keys
The lyrics are literally affirmations. "I am superwoman. Yes, I am." How much more girl power can one song get?
5. Man! I Feel Like A Woman – Shania Twain
No girls night out is complete without this Shania Twain classic. In a world that tells us that we are second best, this song is a reminder that we can be sexy, smart, and appreciate ourselves for being women. Also, this song makes me want to ride a mechanical bull.
6. Independent Women – Destiny's Child
The anthem for women of strength, this song launched a movement. It was on the Charlie's Angels soundtrack, a movie marked by women empowerment. I mean, it basically features women ninjas.
7. Roar – Katy Perry
A song about laser focus and celebrating the winner in you as a woman? Sign me up! What makes this song so amazing is that it not only talks about the beauty of a woman and appreciating yourself, but it's also advocating being strong enough to let your voice be heard as opposed to the conditioned tendency to keep quiet and not make any waves. No, ladies! ROAR!
8. Hit Me With Your Best Shot – Pat Benatar
Now a cult classic, this song fines me up and makes me feel bulletproof. This song is like a proverbial calling out for life to "do its best", fully confident that you are unstoppable. Yes!
9. Stronger – Kelly Clarkson
Sometimes, life seems to throw things at us that can get us down. But, this song is a reminder that, no matter what happens, we only get stronger. Kelly Clarkson belts it out with such power, it's like you have no choice but to sing right along.
10. 32 Flavors – Ani DiFranco
Another song checked full of golden affirmations, this smooth song definitely soothes the feminist soul. The way she poetically paints a picture of being focused on what you know to be true about yourself ("I am beyond your peripheral vision, so you might want to turn your head") definitely makes you raise your head a little higher, basking in your own awesomeness.
11. Bitch – Meredith Brooks
I love this song because it was all about the story that you tell about yourself. She embraces what some may even consider a negative term because it's her choice. But, the song's true message is that we women can be whatever we choose to be and we do it well.
12. Respect – Aretha Franklin
Even though this is an older song, this song's message is evident in its title. It's about knowing what you deserve and demanding just that. I mean, she literally spells it out, just in case anyone doesn't quite understand the word.
13. Me, Too – Meghan Trainor
When I first heard this song, I knew it had to be my personal anthem. Sometimes, we can get really caught up in finding our flaws and forget how incredible we are. This is another one that will make you break out in dance wherever you are.
14. Beautiful – Christina Aguilera
This song reminds me of Damien from Mean Girls belting his little heart out, singing this song. This low, sultry tune, riddled with Christina's infamous runs, makes me feel all warm and fuzzy inside, ready to dive into a full-on love affair with myself.
15. Girls Just Want To Have Fun – Cyndi Lauper
This song gives me the visual of girls riding roller coasters, having pillow fights, and just enjoying sister time together. It makes me want to go on an impromptu road trip with a few of my best gal pals. I mean, that's what we really waaaaaaaaaant, right?
16. Girl On Fire – Alicia Keys
Gabby Douglas is the name that comes to mind since this song served as a backdrop for her infamous floor routine during the 2016 Olympics. She truly is a girl on fire, a girl highly motivated, and soaring over any obstacle to achieve her goals.
17. I Will Survive – Gloria Gaynor
One of the most famous woman empowerment songs, this fun song speaks to the fear that can control your thinking, but quickly turns into a message of dismissing that fear and stepping into being a survivor.
18. Flawless – Beyonce
Yet another female empowerment anthem, this club banger had every woman over the summers snapping selfies, proclaiming that they "woke up like this", encouraging women to embrace their natural beauty rather than looking to makeup, hair, or clothing to define beauty. Beyonce herself expands her horizon by showing off her amazing rap skills in the remix and teaming up with Nicki Minaj to show that there is strength in numbers.
19. Waka Waka (This Time For Africa) – Shakira
This song makes me want to find the nearest Zumba center and dance my little heart out. The message is always empowering, painting the picture of a woman of strength. Listening to this song will get any day off to a great start. Sometimes, I repeat the lyrics to myself in the mirror. "Today's your day. I feel it."
20. Sheezus – Lily Allen
This song is everything that life should be. The production is bananas. Lily's light, lilting voice rides the beat like a pony. And the message is one of elevation like none other. She even has lines in the second verse where she talks about getting her period. No big deal. Just part of being a goddess.
Keeping these songs in rotation will make any woman know that they are beautiful and can live out loud, unapologetically. By encouraging these philosophies within ourselves, other women, and the world, feminism will continue to make positive strides and unite our sisterhood.