MG Asks: What Should You Wear on a Job Interview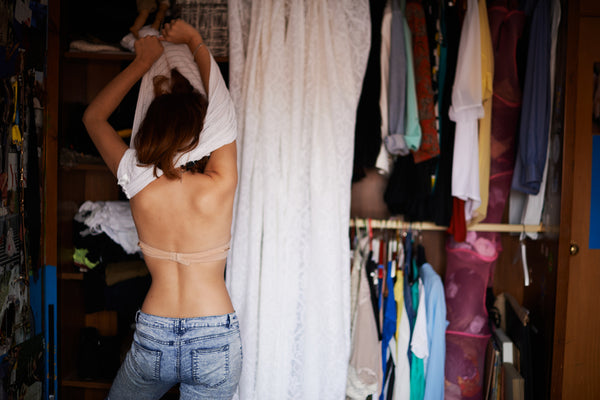 Always wear a suit. Never wear a suit? Oddly enough, I've heard both. What you wear to a job interview doesn't always equate to what you'd wear on the job, but it's still a good way of impressing upon the HR manager that you understand the role, the company, and the culture. Unfortunately, it's usually not the time to try out that formal culottes look you noticed in the September Issue…
The Big Pharma/Law/Fill in the Blank Super Corporate Formal Interview – This is where the suit rule applies. While some consider it to be the most staid in terms of fashion, costume designers for shows like The Good Wife and Scandal have been doing us a solid by showing us that a suit can still be exciting. For your interview, you'll want to stick to something a little bit more basic – think a dark neutral for the suit, paired with a sensible button down or shell, with low closed toe heels. The lady lawyer Corporette blog has a great rundown on suits by price range and body type. If you already have as suit, try it on as soon as you can before the big day. Make sure it still fits and then have that bad boy dry cleaned. You want to represent yourself as crisp and comfortable. H&M: Coordinator: Ann Taylor; Associate: Theory.>
The Business Casual Everywoman Office Interview – Welcome to the wonderfully wide world of separates. If anything, I can sometimes get carried away weighing my options. A shirtdress? A fitted sheath with a matching jacket? A blazer and chinos? All would be considered appropriate depending on the environment. Do a little digging online, or if you know someone who knows someone at the company, ask them. In terms of blogspiration, I'm a big fan of The Work Edit (formerly known as Cap Hill Style). Zara; Coordinator: J. Crew: ; Associate: MM LaFleur>
The Creative / StartUp Interview – Have hope. These are no longer such uncharted territories. Companies that pride themselves on creating a happy and fruitful environment for their employees generally pay a lot more attention to appearances than one would think. This is the interview where you get to show the most personality. I'd still advise against wearing jeans (unless the recruiter you're working with mentions them specifically), but feel free to have a little fun. 9 to 5 Chic has a bevy of looks that would work well here. Loft, Coordinator: Boden ; Associate: Rebecca Taylor.>
General tips:
Keep your hair simply styled.
Same rules for make-up. Today is not the day for that glitter mascara you've been dying to try.
Avoid the perfume. You never know who has an extra sensitive nose.
If you have a manicure, make sure it's still looking fresh. Better to skip the polish than to have crazy chips. I'm a compulsive nail polish peeler myself, so I usually opt for just a simple buff.
Remember, in the end your clothes shouldn't be the focus here. But by playing it a little safe in the first round, you're signaling to HR that you're serious about the job and about yourself. Now go knock 'em dead.