MG. Summer Reading List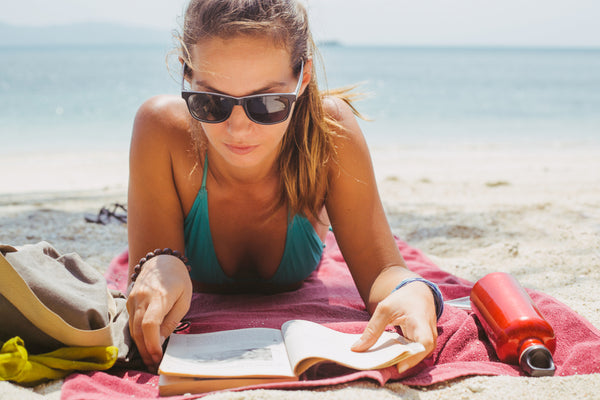 As a former English major, sometimes I miss the simplicity of summer reading assignments. It made beach days very straightforward: towel, check, sunscreen, check, Pride & Prejudice, check. As wondrous as the Borders (RIP) bookstore's AC could be on a hot July day, browse too long and one was likely to get frostbite in their jorts.
Here's a cheat sheet for this summer's hottest reads:
Feel like you need to get out of your classics' rut (or really not at all….), try Eligible by Curtis Sittenfeld. Written as part of Harper Collins' Austen Project, Sittenfeld re-imagines Pride and Prejudice in 21st Century Cincinnati where our dear Lizzy has come home after Mr. Bennett has suffered a heart attack. There she and her sisters meet Chip Bingley, recent star of The Bachelor-like "Everlasting," and his handsome snob of a friend, Fitzwilliam Darcy, M.D. Shenanigans, oh the shenanigans, how they ensue. Jane Steele by Lyndsay Faye. Think American Psycho. But also Jane Eyre.>
Addicted to the "My Favorite Murder" Podcast? You have to read The Girls by Emma Cline. The novel is Cline's debut effort and it is a doozy. Told in a mixture of present day musings and dark flashbacks, Evie's coming of age on the Manson-inspired Spahn Ranch is a devastating portrayal of how achingly lonely and lovely it is to be a teenage girl. Given the subject matter, you would assume the spirit of the book to be almost pedantically gory, but Cline is able to focus on the individual and her relationships to the other girls in such a way that it seems as natural a coming of age story as any. Girls on Fire by Robin Wasserman similarly hones in on the intensity of the age.>
She's baaack… If you haven't read The Vacationers by Emma Straub, then go do that and then come back. Good? Good. Modern Lovers is Straub's second attempt at capturing the secret and expansive and yet all too familiar interworkings of families, friends, and lovers. In this turn, she stays put in New York – Ditmas Park, to be exact – but Majorca or not, the drama is still there.
Obsessed with Kitchen Confidential and cater-waitered in college? Then it's Sweetbitter by Stephanie Danler for you! There's just as much sex, drugs, and rock and roll as Bourdain's tale, maybe even more. Tess works front-of-house at a Union Square Cafe lookalike, while trying to pinpoint what she wants out of life. Despite the fact that she's generally a coked out mess, there's something about Tess and Danler's writing in particular that keeps you reading and sympathetic to the very end. Everybody Behaves Badly: The True Story Behind Hemingway's Masterpiece The Sun Also Rises – Lesley M.M. Blume>