Need to Know: Should I Get an IUD?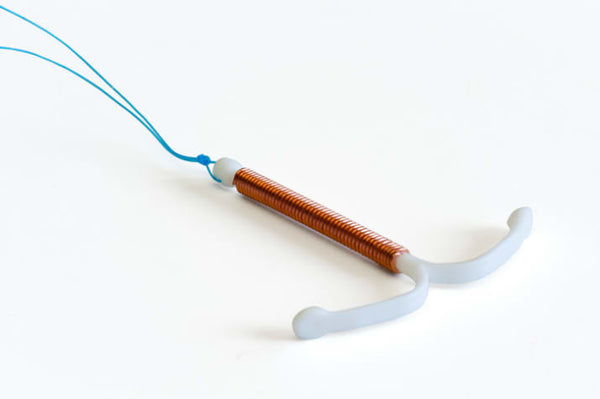 To IUD or not to IUD? That is the question.
Confused? Scared? Have you heard IUD horror stories? Read on for a generally 101 on what IUDs are, what kinds exists, and the various pros and cons of having your birth control live inside your body for up to a decade.
WHAT IS AN IUD?
An Intrauterine Pressure Device (IUD) is a small, plastic "T"-shaped device that is placed inside a woman's uterus to prevent pregnancy. Depending on the type, IUDs can remain inside of you for up to 10 years. Yep, you read that right, up to 10 years.
TYPES OF IUDS
The IUD has been around for around 100 years, but those weren't the safe IUDs we now have today. Globally speaking, the IUD is one of the most-widely used forms of birth control out there. In the US, there are 3 types of IUDs to choose from:
How long does it last: 10 years
Science behind ParaGard: The ParaGard is made of copper, which releases ions to kill sperm. The ions also make it harder for the embryo to attach to the uterine wall.
Best part: This IUD is hormone-free.
How long does it last: 3 years
Science behind Skyla: Skyla releases a small amount of hormones to create a thick mucous plug over the cervix to prevent sperm from entering. The hormone also lines the uterus, making it too slippery to "stick" around, or for the embryo to attach.
Best part: It is smaller than other IUDs, making insertion less painful.
How long Does it last: 5 years
Science behind Mirena: A hormonal IUD, Mirena works similar to Skyla.
Best part: Most women's periods vanish after using Mirena.
LET'S PUT 2 RUMORS TO REST
THE INSERTION IS PAINFUL AND COMPLICATED
Don't be nervous, IUD insertion is often less painful than you think – it's often not much more intense than a PAP smear test. Some women complain of slight cramping, others say it didn't hurt at all. The doctor will explain what will happen during insertion. A speculum – that duckbill looking device – is lubricated and inserted into the vagina, like a PAP test. Then the IUD is loaded into an applicator and placed inside you, after whic the strings are tied and clipped, and then you're all done.
MY PARTNER WILL BE POKED
It is possible when you have intercourse the man will get "poked" by the strings (think of the consistency of fish line). It will soften overtime, and soon enough he will not feel a thing.
PROS OF IUDS
YOUR SEX LIFE MIGHT GET BETTER
IUDs can improve your sex life in that you can have sex without the fear of an unintended pregnancy. IUDs prevent pregnancy better than the pill.
YOU'RE EXPOSED TO FEWER HORMONES
Unlike the pill, IUDs offer the option of reduced hormones or hormone-free birth control. The ParaGard has no hormones, and the Skyla and Mirena only contain progesterone. Birth control pills typically have higher amounts of estrogen and progesterone.
YOUR FLOW MIGHT BE REDUCED
Generally, women who have IUDs experience reduced period flow by 90%. Some women do not get a period at all.
YOU CAN BREASTFEED
IUDs are safe for breastfeeding! This is a major pro considering women are now encouraged to breastfeed for 2 years or more
YOUR FERTILITY IS SAFE
When you are ready to get pregnant, it's fairly easy to get your IUD removed, and your fertility is not affected long-term.
CONS OF IUDS
YOU CAN HAVE CRAMPING AFTER INSERTION
You may need to take some Ibuprofen when you get home or you can apply a heating pad to your abdomen. Cramping happens because your uterus does not want a foreign body inside of it.
YOU MAY EXPERIENCE SPOTTING BETWEEN PERIODS FOR UP TO SIX MONTHS
Spotting is the key word here, you shouldn't be going through pads like crazy.
YOU'RE STILL VULNERABLE TO STIS
The IUD is awesome at preventing pregnancy but offers no protection against STIs.
YOU MIGHT DEAL WITH IRREGULAR PERIODS
Your period may be irregular for up to six months. With the Paragard, you can get a heavier period with more severe cramps.
RARE, BUT SERIOUS SIDE EFFECTS
YOUR IUD CAN FALL OUT
If your IUD falls out, you can become pregnant. But note that fewer than 1 out of 100 women on the IUD become pregnant.
YOU MIGHT GET AN INFECTION
As with any foreign object that's inserted into the body, infection may result. Usually, this will happen within three weeks of insertion and requires treatment.
YOUR IUD CAN PULL A FAST ONE AND MIGRATE
In roughly 1 out of 1000 women, migration of the IUD may happen. Migration is not always noticeable, but an IUD may travel through the uterine wall.
HOW TO AVOID SOME COMPLICATIONS
FEEL FOR THE STRINGS
Feel for the strings at least monthly. The strings feel like fishing line. Ask to feel them before insertion. If you do not feel them, call your doctor.
BE PRO-ACTIVE IF YOU THINK YOU'RE PREGNANT
If you have a positive pregnancy test or you feel you are pregnant, notify your doctor!
---
Considering an IUD is a decision a woman has to think about because it is a possible long term commitment. Though, you can get it removed at anytime. Always talk to your doctor before considering an IUD to see if it is the right decision for you.