Our Five Fave Female Instagrammers to Follow RN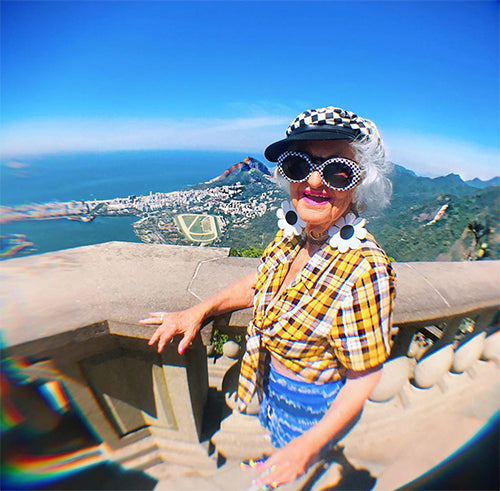 Social media: we can't escape it, and TBH most of the time we don't want to. As with so much in life, quality is everything. Sometimes our social media routine needs a spruce up, and what better time than the start of a new year.
That's why we've put together our five fave female Instagrammers that you should follow to give your feed the TLC it needs.

Megan has become one of the most recognisable faces (and hairstyles) on Instagram. A body positive activist, turned best selling author, she uses her page to share her own story as an anorexia conqueror while spreading the love for other beautiful, body positive babes. With her unicorn hair, huge smile and upbeat quotes, Megan is the light that we all need to see on our Monday morning Instagram scroll.
@baddiewinkle
–
Helen Ruth Elam Van Winkle
Speaking of injecting light in our lives, Baddie Winkle is all the fun, and then some. Boasting 3.3 million followers on the Gram, Baddie didn't come to play (she actually came to steal your man). Her great-granddaughter (we are forever in your debt, Kennedy) set up Baddies' account and styled her g-gma. The awesome 89 year old has since gained a cult following and the queen herself, Ri-Ri, follows her. Baddie is the baddest grandma around, she's fronted campaigns for some of the biggest brands out there, and is loving taking her fans along as she conquers her #BadAssBucketlist.

Zehra's page is a wonderful balance of her fitness journey and the adventure of being a mom of two. With an extensive education in health and fitness and 15 years experience in the industry, Zehra knows exactly what she's talking about when it comes to exercise and nutrition. She also understands the pressures of being a mom and fitting your fitness routine into your everyday life, even when it feels like you never get 15 minutes to yourself. Zehra's feed is full of family, fun and helpful fitness tips, with just the right amount of light-hearted motivation you need to get up and get at it.

It's official: we've finally found our spirit animal 🦄🦄🦄 Self-proclaimed unicorn, Amina's feed is full of vibrancy and cheer, ready to turn any frown upside down. An artist, Youtuber, entrepreneur and owner of the coolest, pink-est hair around, Amina has a whole load of strings to her bow which shine throughout her gram'. From her recent trip to Disney World, Mermaid Shop steals and a huge supply of unicorn merch, we're seriously obsessed with the Tassel Fairy.
On a site which gives a platform for everyone to boast of their "perfect" lives and gym-honed bodies, it's easy to get caught in the games and end up comparing yourself to others and the lives they want you to see. That's where Gina's page comes in: her's is a refreshingly honest account of recovery, self-love, and positivity. Starting the hashtag #embracethesquish, Gina has created a platform where her followers can unite in a feeling of acceptance. From sincere selfies showing the truth behind those perfect Insta pics, to quotes that are sure to lighten your mood on even the dampenest day, Gina's page is a must-follow.
Follow @dearkates on Instagram for all the latest deals and sassiest posts. 
Cover photo Credit: Instagram: @baddiewinkle