Period Positive: Unusual K-Beauty Finds to Make Your Skin Glow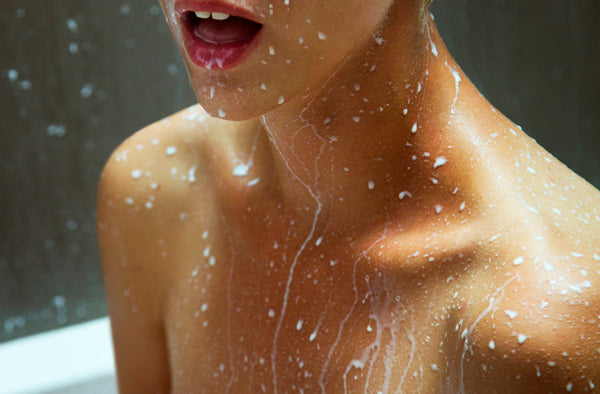 It seems like just yesterday you were running from little Bobby on the playground as he was trying to wipe all sorts of bug goo on you. Today, well, today finds us ladies in a different place, a place of maturity and adventure. A place where we purposefully buy products with the word excretion (cringe) in them. We do it all in the name of beauty, K-Beauty to be exact. K-Beauty is short for Korean Beauty, and not only does it relate to a skin care ritual of geisha standards, it also harkens a certain experimental quality that seems half science and half dare.
Let's face it; pelle delle donne (skin) is our obsession and our curse. Three weeks of the month we are fighting our hormones to keep oil production down, pores itty-bitty, and sensitivity at bay. Two weeks before our periods begin, testosterone starts coursing through our systems and spurs our oil production into overdrive (testosterone is always kicking up something it seems). One week before our period, a time I call the Pink Zone, even more oil is produced and pores increase in size. Yes, you heard that right; pores have the audacity to get bigger and form cystic acne if you don't rein them in. Finally, you are fully in the Red Zone only to be overly tender and prone to additional inflammation. When your period finally waves the white flag (you guessed it, the White Zone), your skin is glowing and worthy of Aphrodite status. Let selfies abound as you enjoy the week as it's just a few days before it all begins again.
How can you restore some order and be a beauty daredevil? Try some of these very interesting K-Beauty finds:
Snail Slime
Eeeeewwww…snail slime? Surprisingly while the yuck-factor is high, the benefits are well worth that first awkward moment when you smear on the slime. Snail slime (filtrate) is known to repair damaged tissue, reduce acne, and quell irritation. It is also shown to increase cell-turnover, helping sluff off old cells for the new, lively ones.
Products to try: Tonymoly Age-Defying Snail Hydro-Gel Face Mask and Benton Snail Bee High Content (toner)
Donkey Milk
I admit it, the first time I heard about donkey milk being used for beauty I snickered a little as the inner eight-year-old in me thought of funny ass-isms to call my friends as we drenched our faces in sheet masks. Once I tried it though I was too stunned by my minimized pores and defeated rosacea to be anything but acting like Narcissus as he comes upon a pond. Donkey milk is known for skin-regenerative properties and minimizing pores, which in turn give the appearance of more youthful (cooperative) skin.
Products to try: Freeset Donkey Milk Skin Gel Mask and Healing and Elizavecca Donkey Creamy Cleansing Melting Cream
Pig Collagen
This little piggy is sure going to market and saying "Wee wee wee" all the way to the bank. Pig collagen is only getting more and more popular as reports of ridiculous hydration and bouncy elasticity roll in. Hydration and elasticity together equal dewy, illegally prepubescent skin.
Products to try: Holika Holika Pig-Collagen Jelly Gel Mask and Tonymoly Pure Farm Pig Collagen Sleeping Pack
So… are you up for giving K-Beauty trends a try? I double-dog dare ya!