Say Hi Spotlight: Trista Okel, Founder of Empower Bodycare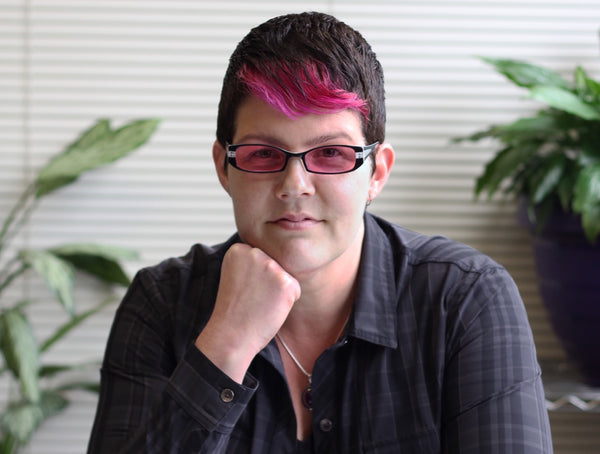 PMS pain is real. Period. Thankfully, there are many companies creating solutions. Say Hi is helping make the less common ones, highly familiar. Say Hi is the only online destination where you can discover an edited assortment of modern cannabis products, partnering with incredible companies to help spotlight their cannabis based fare and educate us about its immense value—companies like Empower.
Empower was founded by Trista Okel, an activist whose interest in cannabis bud at a young age, flowering into a business which creates effective, non-intoxicating topical products for relief of pain, inflammation, and skin issues. We had the opportunity to chat with Trista about her entrepreneurial path, the challenges she's faced, and the passion that drives her through this ever-changing industry.
What inspired you to start Empower?
I was inspired to start the company for a couple of different reasons. Firstly, my mom deals with severe, chronic pain due to three forms of Arthritis, a broken back with failed back surgeries, neuropathy, and fibromyalgia. I wanted to help mom stay off of harmful pharmaceuticals to manage her pain. She found significant relief from even my first iteration of Empower's flagship product-Topical Relief Oil. The formula we have on the market today brings Mom from an 8 to a 3 on a 1-10 pain scale. Her results inspired me to turn the product into a business and help as many people as possible get relief without using pharmaceuticals.
That said, the company name came from an amazing experience I had in late 2004 while participating in a direct action with the medical marijuana advocacy group Americans for Safe Access (ASA). ASA was suing the federal government for their unreasonable scheduling of cannabis as a schedule 1 controlled substance and wanted to bring attention to the matter in the media. I was an advocate for medical marijuana and for legalizing cannabis. I volunteered, along with 14 other activists, to sit in front of Health and Human Services, arms linked, with a banner listing the names of thousands of doctors who had recommended cannabis to their patients for medicinal uses. Because we blocked the doors to the building, we were arrested for "incommoding." We went to jail for about six hours, and our bail was $50 each. We were there to get media attention and that was successful, as the Washington Post covered the story.
While sitting in the jail cell, a lively conversation about cannabis prohibition ensued. It struck me that women were the key to ending prohibition. Women both started and ended alcohol prohibition, and during the same 20 year period the Suffragette movement won women's right to vote, so if we could educate and "enlist" women to speak up about cannabis and join the movement, we could win the war on cannabis that Harry Anslinger and his cohorts started in the 1930's.
Inside that D.C. jail cell is where Empower was born. I wanted to help legalize cannabis and saw that the movement needed more women. Empower is an acronym: End Marijuana Prohibition, Organize Women, Enact Reform. And at Empower BodyCare, we are furthering the mission on a daily basis simply by creating effective, non-intoxicating topical products for relief of pain, inflammation, and skin issues. By providing these products, we are able to win the hearts and minds of people who would not normally use cannabis. And when people get relief from pain, they like to share their experience with others. Women are the most frequent buyers of body care products and at that time, were the most anti-cannabis demographic. My life's purpose became very clear to me during this time: I was to create effective, plant-based topical products that were going to help pave the way for my mission to come to fruition.
When did your interest in the medicinal uses of cannabis begin?
When I was 17 years old, my maternal grandmother, who was a nurse, had breast cancer that had metastasized to her liver and lymph system. Grandma had worked as a hospice nurse and saw the effects of opiates on people as they were dying and didn't want to go that way. Grandma was now in hospice herself and I distinctly remember her asking my uncle to find her some cannabis to smoke, so that she could remain conscious and able to communicate with all of us for longer. I was really anti-cannabis at this time, so seeing my favorite grandmother choose cannabis at the end of her life made a huge impact on me. I watched her go from moaning in pain to smiling and laughing and engaging with her loved ones. She didn't choose to use opiates until it was time to say goodbye, three days later. This was a turning point for me that opened my mind to the possibility that cannabis use could be medicinal. And as a member of the DARE generation, that is saying a lot.
I started my own research on cannabis' therapeutic benefits in the late 1990's. By 2003, I had decided I wanted to grow my own and make my own products. I started with making cannabis infused oil capsules that I found really worked well for me for anxiety and pain. On a hunch in 2004, I broke open a capsule and used the oil topically on a friend's injured foot. To my surprise, the oil worked for pain, inflammation, and bruising. This sparked what became a now 14-year pursuit of knowledge of all things cannabis with a specialty in topically applied cannabinoids. My mom, who desperately needed an alternative to harmful pharmaceuticals, did not want to use cannabis internally at all. So I started experimenting with different carrier oils and essential oils combined with cannabis-infused oil and came up with the first iteration of what would become Empower Oil (Topical Relief Oil).
What are some of the major obstacles you've faced in your business?
One thing I've learned over the years in this business is that we always have to be able to pivot quickly and adapt to ever-changing regulations. In 2016, when the state of Oregon was rolling out the licensed recreational cannabis system, we were in the process of switching from the medical marijuana system to the recreational marijuana system. We had been teased with "early recreational sales" in the medical dispensaries (the state allowed people without medical marijuana cards to purchase cannabis products in medical dispensaries from June 2016 through December 2016). However, in October 2016, all of the packaging, labeling, and testing requirements changed. We did not anticipate how long it would take for other companies to become compliant and have state regulation-compliant extract for us to purchase. Since we don't make our own extracts or grow our own cannabis, it took us over a month to find extracts to use to make our products. Then, the cost of testing our products went from $125 to $3000 and took upwards of a month to get results back from the labs. We ended up being out of business for 70 days. We went from a thriving, growing company to being shut down overnight. I didn't want to lay off any of my team, and luckily, those who could afford to do so furloughed themselves for a few hours a week. Coming up with the money to pay for all of the new packaging and labels, security systems, and everything else needed to have a compliant licensed cannabis business was definitely a struggle. My wife and I maxed out credit cards and stopped taking paychecks. And, we made it through that very challenging time. It definitely made us stronger and better at handling adversity and challenges in business. I am now able to face new challenges with more advanced skillsets and can adjust to new regulations faster with greater perspective.
How do you navigate the process of educating your customers about such "new" products? On your website, for example, it says clearly "You cannot get "high" from them" – is this a widely held misconception about products like yours?
Since part of our mission is to bring awareness to the masses about cannabis as a therapeutic alternative to pharmaceuticals, we do tend to focus on educating groups of people who would not normally use cannabis (before trying Empower products). We focus on educating women and seniors, the two groups of people who are most often opposed to cannabis (political affiliations notwithstanding) and need it the most. It is a common misconception that topical products will get you "high." It is especially important to these groups to know that they will not feel intoxicated when using topical products.
Due to FDA regulations, we can't tell customers what to expect from our products. We rely on other customers sharing their experiences to tell the story of our products to their friends, family, and neighbors. It is a sincere form of advertising while turning each and every customer who shares their experience of Empower into an advocate for both our company and the cannabis (or hemp) plant.
Are your products geared mainly toward women?
I have focused on keeping the designs and scents gender neutral, as our main focus is on people in pain and replacing pharmaceuticals with plant-based alternatives. However, women buy the majority of body care products/topical products, so women are our main demographic.
That said, 4PLAY is absolutely geared towards women.
What are the health benefits of your most popular products?
Empower® Topical Relief Oil is by far our most popular product. The formula has pain-relieving, anti-inflammatory, and skin healing properties. It is most often purchased by people with pain and inflammation issues. We recently launched Topical Relief Lotion (Lemon Verbena scented), which is quickly gaining popularity as well.
All of my formulations are developed to help people with pain, inflammation, and skin trauma (anything from a bruise to a minor burn, from eczema to mild cases of psoriasis). I made Empower® Soaking Salts to help my mother get relief in her back. She can't reach the places on her back that hurt the most with the oil on her own, so she uses the salts, which give her at least a day with little to no pain. We get a number of reports every week from grateful customers who really appreciate the relief they are getting from our products. The Soaking Salts are a great detox, provide full body relaxation, are aromatherapeutic, help with pain and inflammation, and leave skin moisturized.
As women we know the myriad struggles, physical and emotional, that come with PMS and getting our periods, how could your products help women during this often less than pleasant time?
That's a great question. I can speak from experience on this one. At the suggestion of a customer, I tried 4PLAY to help with menstrual cramps and Endometriosis and was so surprised to be pain-free for 3-4 hours with 8 sprays. If I let the cramps "get ahead of me" in managing the pain, I have to use more modalities to get relief. I am able to get through a cycle without using Ibuprofen by using the Topical Relief Oil on my abdomen and back with a heating pad, using the Soaking Salts 1x daily for a couple of days, and using 4PLAY every 4 hours. 4PLAY can be applied to the labia minora or to the end of a tampon or diva cup.
We have received many reports of other women using 4PLAY not only to enhance sensual experiences, but also to relieve pain with intercourse, menstrual cramps, and Endometriosis. 4PLAY is pH balanced for women, so it won't negatively impact a woman's flora when applied to the labia or vagina. I have to keep two separate bottles because I don't like associating the product with cramps when I want to use it for fun. I do have to mention that 4PLAY helps to reduce the refractory period between orgasms and make orgasms last longer and feel more intense.
Anything else you want to share with our community?
Empower is a women-owned company just outside of Portland, Oregon. I started it with a desire to help people and empower women, and I am proud to say I get to do both. I pay my team an above living wage and provide generous PTO and health insurance. I source my ingredients from companies with the similar ethos and desire to leave this world better than we found it.
By using plant-based products instead of synthetic products or pharmaceuticals for a better quality of life, we get to make a positive impact on our environment, our communities, and the cannabis industry.