Tips for Writing Your Best Resume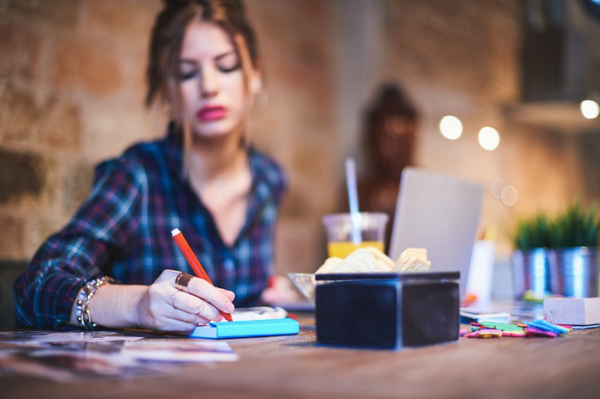 Aside from going to the dentist and getting bikini waxes, writing a resume is perhaps the least-fun thing ever. Resumes require tedious work – and it kind of feels like no one ever reads your resume anyway. But for the most part, they're a necessary evil even as job hunting and recruiting processes become more high tech. In some way, shape, or form you will likely need a thing that summarizes you and everything you've done. So start thinking of your resume as a celebration of you, a testament to why you're awesome and why companies should be breaking down the door just to talk to you.
There are a lot of bad resumes out there, so let's talk about a few ways your resume can stick out from the rest:
1. BE CHOOSY ABOUT WHAT'S INCLUDED IN YOUR RESUME
It's tempting to put everything you've ever done on your resume. Because more is more, right? Not so much. While it's a great initial step to do a massive brainstorm of all of your experiences and accomplishments, you're not going to include every little thing in your final draft. Think about what you're trying to show through your resume and the main qualities required by the jobs you're looking at. From there, you should come up with a goal of sorts for your resume. What's the story you're trying to tell through your resume? Once you have your story, you should make sure most of your listed experiences and accomplishments help tell it. Also, remember that once you've got a few years of work experience under your belt, listing things like your college GPA isn't necessary.
2. GET LANGUAGE IDEAS FROM EXISTING JOB DESCRIPTIONS
Talk the talk. This doesn't mean your resume should be a jargony disaster – it shouldn't – but do some research into how relevant companies are describing certain responsibilities or activities. What kind of language does your dream job description contain? And how can you incorporate similar words or phrases in your own resume? See if there any common words or expressions across the different jobs you're looking at. Make sure you're using language that demonstrates that you're an expert.
3. NUMBERS CAN SPEAK LOUDER THAN WORDS
Quantify your accomplishments whenever possible. Numbers can help your resume pop. If your hard work increased sales by 30% in Q4, say it. If you coordinated a team of 6 people or managed a budget of $200,000, say those things, too. Quantifying things makes your accomplishments less ambiguous and helps you shine even more.
4. SNAG HELP FROM A DESIGNER BUDDY
Resumes often look super blah and just plain tacky. If you've got a pal who's design-savvy, see if they can spend 30 minutes sprucing up your resume. No need to go crazy with wacky layouts, but your design friend might have some good ideas for making your resume look a little more polished. Just make sure your resume format works for whatever roles you're looking at – some industries require more formal or extensive resumes, whereas some companies might appreciate a more creative approach.
5. GET FEEDBACK FROM THE RIGHT PEOPLE
If you're stumped about what you should have on your resume, find a teammate who can help you think through all that you've done. Make sure it's someone who won't blow your cover about your job hunt! An alternative option is to get a former manager to review your resume, especially if they're in the same field and know what strong resumes look like. They'll be able to say whether your resume is killing it or needs a little more love. And don't forget to get some eagle eyes on your resume for grammar and spelling issues. Whichever friend or family member has the strongest editing skills needs to look over your resume for those minor errors that can send it straight to a recruiter's recycling bin.
6. KEEP IT CURRENT
You're probably doing great work and bagging a major accomplishment every few months or so. Make sure those things make it to your resume. Keep a running list of all the things you're crushing at work and revisit your resume every 6 months to see what you can add or remove. Consider updating your resume whenever you do an annual or quarterly review with your manager, since your accomplishments will be fresh in your brain. The nice thing is when you're updating your resume regularly, you probably won't have to do a major overhaul when you're ready to start a job hunt.
---
Phew! Sounds like a lot of work right? The reality is that a good resume requires a couple of hours of focused work, plus some good feedback. Making a resume is a good experience, and afterwards, you'll be proud of all your experiences and accomplishments. Plus it's always smart to have an up-to-date resume on-hand just in case opportunity comes knocking!