MG Memo: Our CEO Opens Up On Why Monthly Gift Acquired Dear Kate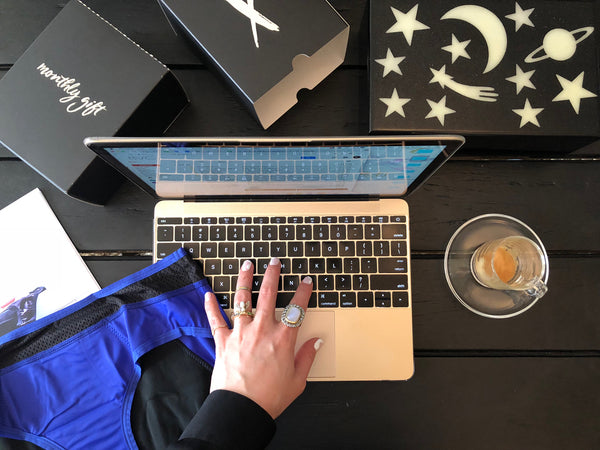 As you may or may not know (and now you do), Monthly Gift acquired Dear Kate with its revolutionary fashion-meets-function line of period underwear, activewear, and dancewear. Designed with three layers of breathable, leak-resistant, moisture wicking technology, Dear Kate products protect and empower you every day of the month.
Dear Kate's empowering and inclusive tone reflects the badass company ethos, which is perfectly aligned with Monthly Gift's and we couldn't be more excited to join forces and further support our mission of empowering women to take control of their health and to embrace their best selves.
We sat down with our CEO Lisa Marie to discuss the news and find out more about the invigorated mission and what's next:
What was Monthly Gift's original mission and how has that evolved since its inception?
The Monthly Gift mission has always been the same: to combine cutting edge technology with innovative products that empower women to take control of their health and make their lives easier. It's far too common that the products we, as women, use every day are being created and marketed by people who have never used them (ehhem ehhem MEN). It's time to change that and we love being a part of the change.
How does acquiring Dear Kate propel the mission forward?
Acquiring Dear Kate (and Le Parcel) allows us to cast our net much wider and much faster, and to help more women. We never wanted to be a "tampon only" company, and always planned to expand our product line to give women choices and the opportunity to find what works for them! Dear Kate opens a whole new arena for us. We have unique, powerful and proprietary technology that gives our customers the confidence they deserve every day for their cycle. I wear my Kates every day and never have to worry about being caught off-guard by my period. No matter how much we track and how well we prepare – you never know when you'll start spotting mid-cycle! Not to mention how they saved me during and after my pregnancy. Incontinence can impact anyone at any time in their lives – isn't it nice to never have to worry about leaks when you laugh or sneeze just a little too hard? We're women: we bleed, we sweat, we exist and we deserve products that embrace that.
Why is it important to have a sustainable options for Monthly Gift customers?
We want to make sure our customers have the best choices available to them, no matter what shade of green they might be. For years we've been trained to use pads and tampons as consumers – a sustainable option introduces a behavioral change to the majority of the consumers out there. We started first with tampons and pads because that's what our customers wanted at the time. Before we introduced something new and more sustainable with Dear Kate, we wanted to make sure it was nothing short of amazing so that our customers will understand and appreciate the value of this new option.
What does it mean to you to be the go-to destination for femme care needs?
Being the go-to resource for femme care and reproductive health information means everything to our organization. It has been and will always be our ultimate goal to be able to provide knowledge, resources and the latest and greatest products that are backed by technology. Women's health has been kept in the shadows for far too long. Why are we so comfortable as a society having every other commercial speak about Erectile Dysfunction, but the moment you mention the word "period" people cringe? That's the change we want to not only be a part of, but to pioneer.
What's next for Monthly Gift?
Whats next? You name it. If it's a product that can make women's and girls' lives easier, we are looking into it. We are already working on growing our product line with our existing technologies and have a few other amazing things in store. We maintain a huge focus on philanthropy and are working on expanding our partnership with our charity partner Days For Girls.
As we continue on with our mission of empowering women to take control of their health and to embrace their best selves, this acquisition is a huge step forward for us and we're thrilled to have you by our side.