Best News Ever: You Can Now Order Your Monthly Gift Subscription!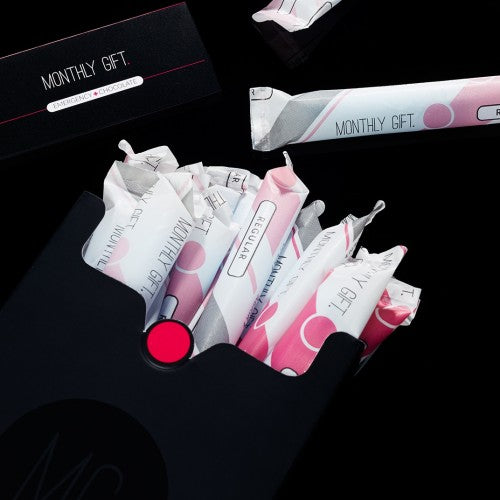 Ladies, we've been working tirelessly for months to develop the best solution for your least-fun week of the month. Today we're thrilled to tell you that the wait is over and you can now subscribe to Monthly Gift.!
You can now order your own customized Little Black Box that's filled with the Monthly Gift. tampons, pads, and liners you need each month. That means you never ever need to worry about having enough tampons – you can get the femme products you need delivered right to your door, right before your period arrives. And we even throw some really delicious chocolates in your Little Black Box, too, because we know that even the highest-quality femme products don't solve all of your period problems :).
Here's the deal: For most of us gals, our period is a monthly visitor that causes disproportionate stress and anxiety. It's those all-too-frequent "Oh crap did I remember to buy pads" or "Do I have to ask my coworker for a tampon again?" moments that make having your period a stressful, inconvenient experience. And we think that sucks.
So in a world where you can have sushi, beauty products, and puppies delivered, we figured why not set up a subscription service that makes your period less stressful? And we're happy to say we did just that by creating Monthly Gift.
Monthly Gift. is all about providing awesome convenience for your least-awesome time of your month. We do that in a few ways:
COMPLETE CUSTOMIZATION
You get to customize your Little Black Box to your cycle. Need mostly tampons, but some liners, too? You've got it. And if you need to change up your order the next month, that's fine.
PERFECT TIMING
Your Little Black Box delivery is individually-timed to your cycle and will always arrive ahead of your period, so you're never running to the drugstore at midnight again.
KNOWLEDGE IN PALM OF YOUR HAND
You can track your menstrual cycle, record health symptoms, and manage your Monthly Gift. account using the handy-dandy Monthly Gift. mobile app.
Sounds pretty great, right?
IT GETS BETTER. YOU KIND OF GET TO BE A HERO TOO.
This month when you order your Little Black Box, we'll match it with a donation to Days for Girls through our #BoxForYourBox campaign. Days for Girls is our fantastic parner organization – they provide femme products to gals in need. So by ordering your Little Black Box, you're ensuring you get the goods you need, and you're doing good for other women out there too.
Pretty exciting stuff right? Get going and order your Little Black Box today at monthlygift.com!