Walt Disney Totally Made a Cartoon about Periods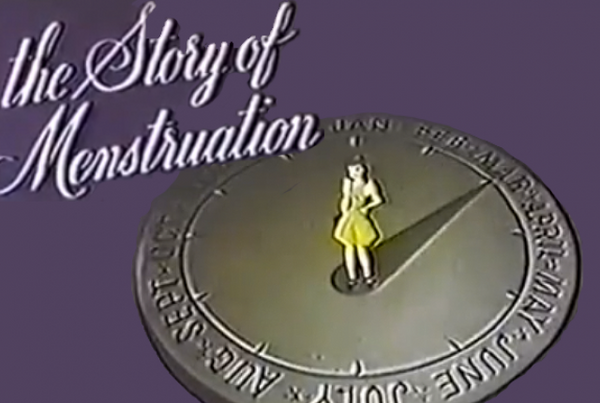 In addition to dancing dwarves and singing cutlery, did you know that Disney created wartime propaganda and even a cartoon about periods? Yes, you read that right. In 1946, Disney created an animated short called "The Story of Menstruation."
Prior to World War II, Disney received a lot of its funding and revenue from the European theatrical market. When the war hit, the money disappeared leaving Walt Disney with just pennies in the bank. In order to survive the hard times, Disney started taking commissions from the US government and corporations for short animated films.
In 1946, the International Cello-Cotton Company, now known as Kimberly-Clark, commissioned Disney to make a short film on periods. They hired Gynecologist Mason Hohn to ensure the film was scientifically accurate. The 10-minute film is narrated by a female who may or may not actually be your grandmother. Throughout the film, she provides you with the facts of menstruation and some "helpful" advice. The film even received the Good Housekeeping Seal of Approval so you know it's going to be good…
According to the narrator, most girls will have "no trouble with their periods, but some will feel a little less peppy or experience more discomfort." The use of the word peppy feels antiquated and slightly condescending, but okay… we'll keep watching… Then she goes on to say "Don't let it get you down. After all, no matter how you feel, you have to live with people. You have to live with yourself, too. And once you stop feeling sorry for yourself and take those days in your stride, you'll find it's easier to keep smiling and even tempered." Alright, tough love grandma, but acknowledging that our cycles bring hormonal changes isn't conceding to the monster within us. Demonizing PMS sets a dangerous precedent, but I guess it was 1946. See also: we STILL have a long way to go here.
She then goes on to give posture advice. Don't slouch. It's bad for you inside and out. Okay, that's probably good advice to note, especially when you sit all day at work or school. But the focus seems to be too much on being "ladylike" (WTF is that anyway) with assurances that you'll still be able to do all your favorite things like dust the furniture and dance with your honey…
Anyways, The Story of Menstruation was played in many health classes across the country up until the early 1960s. The film even came with its very own handy booklet with more fun facts and advice. If you're looking for a good giggle, definitely give "Very Personally Yours" a read today.
Well, without further ado, here it is, "The Story of Menstruation":