Real Talk: What It's Really Like Working With Your Sister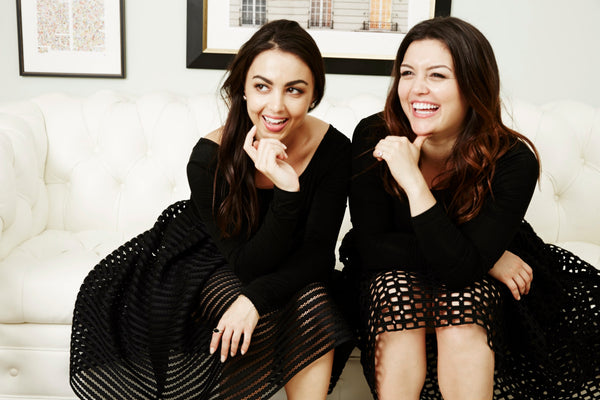 This piece originally appeared on The Runway Riot
My sister and I have always been close. It's hard to imagine not spending as much time as possible in the same room as her, so going into business was not a surprise. I always joke that we only need one desk and one chair – I would happily sit on her lap (cue LisaMarie's eye roll).
Growing up we shared a room. First we had a trundle bed, next we shared a bed with our Nonna (grandma) and then, when we finally had our own rooms, LisaMarie opted to sleep with me every night.
We could fight like cats and dogs during the day (as sisters often do), but when it came time to climb into bed, that was it, the fight was over. We've always been each other's biggest allies and advocates. I think that's what makes us such good co-founders. Because, at the end of the day, no matter what the stress of the minute might be, we still have to metaphorically climb in bed together.
We were both extremely creative kids. As our interests matured, I got into jewelry design and she ventured into interior design. We always loved to create. I see a lot of these skills and experiences come back into play now, as we build this company, this movement, together. As founders you need to be flexible, imaginative, and willing to get your hands dirty. For us, not much had to change in order for those shoes to fit.
Our only major concern as we entered the start-up arena together, was that we both wanted to ensure that our super sacred relationship as sisters (pronounced: seesters) remain intact. As such, we make sure there is always time to take off our co-founder pants around each other. We just instituted our annual sister trip (no mom-allowed). For our first installment, we are heading to Paris!
The main challenge of working together as sisters is that in all of your interactions leading up to this point, each of you has played a role. And that's a normal sibling thing. I haven't met a single set of sisters that doesn't have this super layered, historic context. For LisaMarie and me, the difficulty is in trying to separate that history from the stuff we are doing at work, so that when we are having a conversation about a pitch deck, we are actually talking about the pitch deck and not the fact that one stole the other's shirt fifteen years ago.
The highlight reel of working with Eash (my nickname for LisaMarie) never ends. If I had to choose, though, I think my favorite thing about working together has been getting the opportunity to see her in this whole new light of leadership. As adults, we had always talked about work, and I knew that she was a rock star, but I didn't actually get to see it until Monthly Gift. Now I am fortunate to watch her command a room, pitch an investor, talk to an editor about our product, and so much more. It's such a rewarding opportunity to see how brilliant she is in this whole other department. And it hasn't surprised me one bit.
As sisters and co-founders, we set out not just to build a femme care company, but to create a women's health platform. In the future, you can expect Monthly Gift to touch many other facets of women's lives besides their period. Global takeover, here we come! And I couldn't imagine a better person to have by my side for this adventure.