Fangirl Friday: Female Comedians On the Rise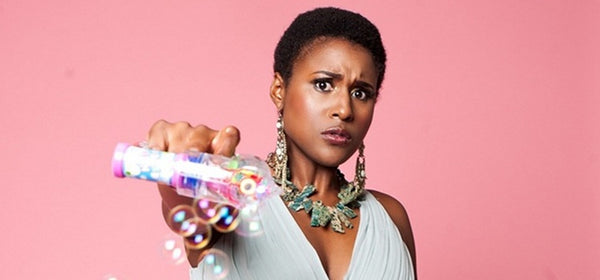 I have to admit I find myself to be a bit of a tastemaker in my group of friends when it comes to the comedy world. I'm wildly insistent that I 'called it' when it comes to the rampant success of Amy Poehler, was sure that Trainwreck would be a hit and still experience some backlash, and just knew Leslie Jones was destined for great things.
Here are the ladies I'm looking to lately for my laughs…
Ali Wong
Go watch Baby Cobra on Netflix. Ali, who writes for ABC's hit-sitcom Fresh off the Boat, is delightfully dissonant on the stand up special. Wickedly smart AND stunning, wildly raunchy AND 7 1/2 months pregnant (at taping), there is a revolutionary way about her. Women can be pretty and petite and talk like truckers. Women can be nurturing to their partners and also ambitious about their own interests. One of my favorite moments in her work is a bit that summarizes why women sleeping with men after the first date is no reflection of their self-worth. It's funny, it's fresh, and it rings true. She's wrapping up a tour this fall so check her out in person if you're interested!
Issa Rae
Somehow I missed out on, Awkward Black Girl when it was still just some incredibly funny, irreverent, honest Youtube series. Thankfully, HBO took me by the shoulders and shook me and now I was lucky enough to find Insecure. Developed out of the original series with Larry Wilmore, Issa Rae has a huge hit on her hands with Insecure. The sitcom explores the personal and professional relationships of two black women trying to make it in modern Los Angeles, hitting on themes that affect all young 20-30 something year olds while also remaining true to their unique voice and perspective. It's raw and insightful and hopefully only the beginning for Issa.

Karen Kilgariff and Georgia Hardstark
To be fair, I almost didn't include these two because I feel that while both ladies are truly LOL-funny (as my morning subway commuters can attest to), only one of them self-identifies a a comedienne. But fuck it. Karen and Georgia are my secret new best friends with their wildfire hit podcast My Favorite Murder. As the title indicates, the podcast is spent dissecting the details of two murders the duo finds fascinating that week. For every girl who has spent her office lunch break Wikipedia'ing serial killers in the sixties, this one's for you. They can be off colour, they can be glib, but they have heart and humor in spades and are shining on a light on a fascination that many feel makes them an outsider. This #murderino appreciates it.
Rachel Bloom
Rachel Bloom is primetime's darling, a fast favorite for her hit show (which incidentally, she not only stars in, but also created) Crazy Ex Girlfriend. She's incredibly talented, and really pushes the envelope with her irreverent comic style. And she can sing and dance too! NBD.
Featured image via MODA Chicago