Fangirl Friday: Frida Kahlo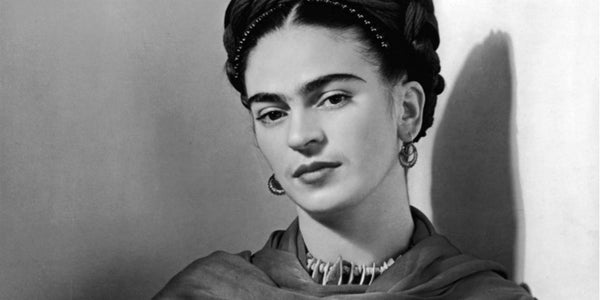 Mexico's sweetheart, Frida Kahlo is a beloved artist whose work celebrates her country's rich cultural heritage.
Born in 1907, Kahlo's art is widely revered, she is known by many for her incredible self-portraits. This instinct toward self-examination is both brave and beautiful and has yielded some truly iconic works of art.
Frida married fellow artist Diego Rivera, whose work she greatly admired. She sought his advice as a young artist and he immediately recognized her talent. In 1929, an intimate relationship was formed, one that was fueled by an intense passion that burned brightly and was punctuated by irritable temperaments and numerous extramarrital affairs, as well as one divorce and a remarriage. Theirs was a wild love that continued on until her untimely death at age 47.
Though she did not self-identify as such, Frida Kahlo's work has been described as surrealist, namely by fellow artist Andre Breton who said of her art it was a "ribbon around a bomb". In response, she said that her art reflected more of her reality than her dreams.
And what a reality she lived. Kahlo died in 1954, attended to by the ever-doting Diego. An urn holding her ashes is on display at her famed home La Casa Azul (The Blue House), which is, to this day, a museum housing numerous works of art and artifacts from her life.
Frida has experienced much posthumous fame, her work continues to be shown and celebrated and her legend will forever transfix us.