Fangirl Friday: Meryl Streep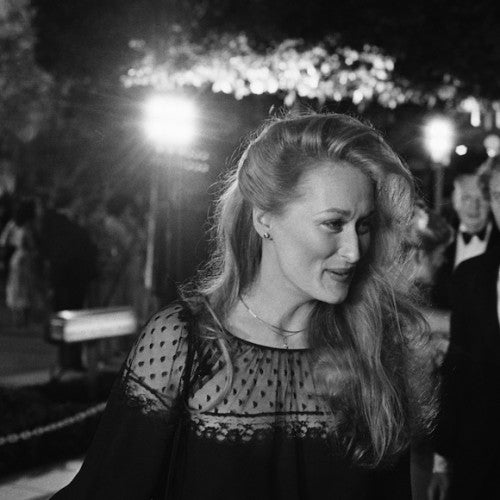 Guess who's been nominated 19 times for an Oscar?
Yeah that's right, Meryl Streep. That's by far the most times any actor has been nominated. But that shouldn't surprise you – after all it's MERYL STREEP. And aside from being nominated basically all the time, Meryl has won 3 Oscars for Best Actress.
Born in New Jersey – there's a strong argument to be made for Meryl being one of the best things to come out of that state – Meryl has been acting in movies since the mid 1970s and has been in standout films like Out of Africa, Sophie's Choice, The Bridges of Madison County, and The Devil Wears Prada.
Beyond being one of the best actresses of all time and a mother of four, Meryl is also a major philanthropist. She established The Silver Mountain Arts Foundation with her husband, an organization that frequently donates to causes related to education and the arts. The foundation also supports causes related to women's professional empowerment, including The Writer's Lab, an exclusive program that mentors female screenwriters over 40.
All in all, Meryl is pretty lovable both on-camera and off. That's what makes her a easy pick for this pre-Oscars Fangirl Friday. Love you Meryl!
Sources
http://www.imdb.com/name/nm0000658/
http://www.huffingtonpost.com/2012/02/29/meryl-streep-charity_n_1311727.html
http://www.insidephilanthropy.com/home/2015/11/3/one-more-reason-to-love-meryl-streep-her-active-philanthropy.html
http://insidephilanthropy.squarespace.com/film/2015/4/21/meryl-streep-funds-screenwriting-lab-for-women-over-40.html
http://guardianlv.com/2014/03/meryl-streep-to-play-a-rock-star/
https://www.pinterest.com/pin/558376053776631472/
http://www.awardsdaily.com/2015/05/22/first-look-meryl-streep-in-florence-foster-jenkins/
http://www.fanpop.com/clubs/meryl-streep/images/4534968/title/meryl-photo