Fangirl Friday: Patti Smith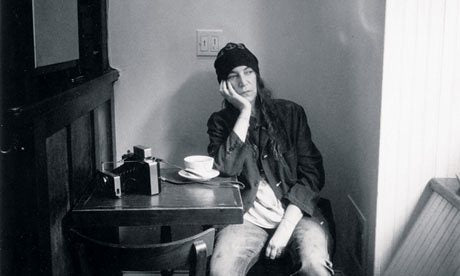 While we crush on many a girl, girl crush doesn't quite suffice here. After all, Patti Smith is a living legend. She may indeed be magic.
A musician, poet, visual artist and activist, her personage is synonymous with cool (cool in lower case letters and maybe even italicized because it's that real). With an effortless androgyny and unwavering authenticity, she is a true individual who lives and loves and learns with everything in her. How's that for inspiring?
Her music is iconic, a fantastic fusion of rock and poetry. Her lyrics are intelligent and political. She was aptly dubbed the "punk poet laureate" and is often regarded as one of the greatest artists of all time.
Her written work is phenomenal, it is vulnerable and meditative and humble. As a memoirist, she opens up a window or a door or knocks down a whole wall exposing her life and inviting her readers in to look around, not at a distance, but right alongside her. Because she is searching too.
Patti Smith is a strong and sensitive woman, a true lover of art. She is at once vulnerable and fearless, a person who vibrates with life. She does not pretend to be anyone else, she is Patti Smith and as long as her words are read or sung or heard, she will continue to inspire those lucky enough to have her in their orbit.
Ultimate swoon.
Photos courtesy of: