Fangirl Friday: The Wellness Women Making Us Healthy (and Happy)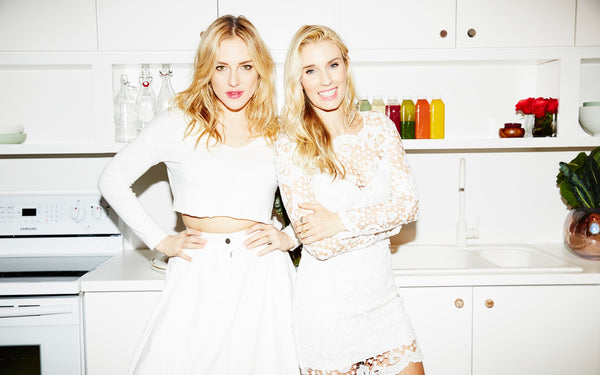 Getting fit can be super intimidating, especially in the abstract; it's like an ever-steepening mountain to climb with a backpack full of bricks. But nowadays, that perception seems to be changing thanks to the dedication of some super motivating health mavens who are working hard to make healthy living accessible and, dare we say, fun for generations of women (and men).
Thankfully there are so many of these movers and shakers, but here are a few inspiring women-run projects to get you started on your journey into the wonderful world of healthy, happy living:
Well+Good Health and wellness website
Founded by journalists Alexia Brue and Melisse Gelula, Well+Good promises to be "your healthiest relationship" and it delivers. This devotion to the cause of healthy living has yielded an amazing site that is "leading source of intel on boutique fitness and the juice industry, plus cutting-edge nutrition, natural beauty, and more."
Sahara Organic meal delivery
The founders of Sakara, Danielle DuBoise and Whitney Tingle, "believe that what you put into your body forms the building blocks for the rest of your life" and as such have created a plant-rich, gluten-free, superfood diet meal delivery program that will enrich your body and your soul. Did someone say watermelon jerky?!
Pearl Butter Clean (and super cute) treats
By now you've seen and salivated over unicorn toast, the equally pretty and delicious looking treat trending online. Thanks to our friends at Well+Good (because, of course) we've found the source and it's even better than we could have imagined: it's super healthy. Started by Kati Holland, who was motivated by health issues of her own, Pearl Butter is "a food company on a mission to turn your beauty routine inside out." Tasty treats just got a whole lot healthier (and cuter).
Box + Flow Innovative & empowering workout
"For women who aren't afraid to get messy and men who aren't afraid to flow," Box+Flow was started by Olivia Young, as an alternative workout for people who didn't want to choose between getting messy and zen'ing out, in the gym or in life. With her innovative workout classes (and lifestyle), Young is "inspiring those to embrace both sides of themselves and all aspects of life."
The Local Skill Creative Wellness Collective
Founded by Fitness instructor and consultant Shay Kostabi, The Local Skill is a Creative Wellness Collective + Fitness Consulting Agency in DTLA. Their mission is to support the connection between art and wellness, "through original programming, one-of-a-kind experiential events, classes, workshops and digital content in the Los Angeles area (and sometimes, beyond)." Example: The Posing School. Yes, please!