A Simple Guide to Spring Cleaning Your Body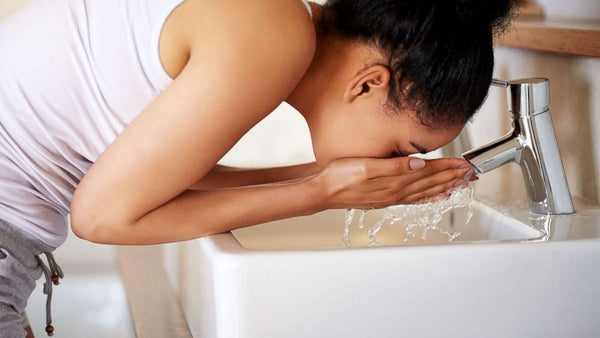 The birds are chirping, and animals are courting so it must be spring, which means it's time for a bit of spring cleaning! With its origin in several ancient traditions and customs, spring cleaning is the time each year when we enact our inner Marie Kondo and try to clean and organize our living spaces into happier and healthier places.
It only makes sense that we pull our bodies out of hibernation too. Here are a few ways to clear out the winter muck and get your body ready for all the sunny, active days Spring has in store for you!
Exfoliate Your Excess Baggage
Let's start with our outer layer—skin. Winter has no doubt left you with a sludgy buildup of dead skin cells, product, and environmental toxins. To start fresh, a deep exfoliation is ideal for unearthing new, smooth skin. Start exfoliating the body with a microdermabrasion scrub like the Body Shop's Vitamin C Glow-Boosting Microdermabrasion Scrub which comes in at a nice $23 price point. If you want to DIY it, add sugar to your favorite shower gel; add brown sugar for a gentler experience and granulated white or raw sugar for a more aggressive scrub.
Faces need a little microdermabrasion too, but I would recommend being extra gentle with tender and thinner facial skin. Meet up with your favorite aesthetician for a little professional microdermabrasion or find a quality product with controlled acids (I love Dr. Dennis Gross' Alpha Beta Pads) to remove dead skin lightly.
Moisturize Moisturize Moisturize
Next, it's time to infuse your skin with moisture to plump the skin and give it a healthy glow. For the body, consider a body mask once or twice a week after a good exfoliation to make skin silky smooth. I love Lush's Mask of Magnanimity for face and body. The peppermint in the mask peps you up, while honey attracts moisture and has antibacterial properties. If you are saving up for your summer vacay, try my homemade CocoHoNana body mask: mash two bananas and add to a half cup of honey and about four tablespoons of room temperature coconut oil. Put on a little sexy music, slather on the body mask of your choosing, relax in the tub for 20 minutes, and then rinse. Follow with a body butter or luxurious body oil.
For facial skin, use a facial mask a few times per week to keep skin plump. Also, be sure to adjust your skincare regimen for spring. Ditch the overly heavy creams for lighter formulations and adjust cleansers that will cleanse but not over strip skin.
Nourish Your Cells
Spring cleaning your body also has an internal component—internal nourishment. Clear out the internal decadence left from winter with a few tips. Up your water intake and add a few cups of a cleansing herbal tea each day. Try teas like dandelion, nettle, ginger, mint, fennel, or burdock to massage your liver into releasing toxins (and liking you again after months of mistreatment). Incorporate more fruits and vegetables into your diet in solid or juice form such as cucumber, celery, greens, bananas, and papaya. Try to eat lighter so your digestive processes can balance out and start working efficiently after months of heavy foods.
Spring is a time for new beginnings, and nothing makes you feel like new like power washing your body inside and out. Take a little time to practice some self-love and ponder all that Spring may bring!