Ladies Who Rock (and a playlist that does too)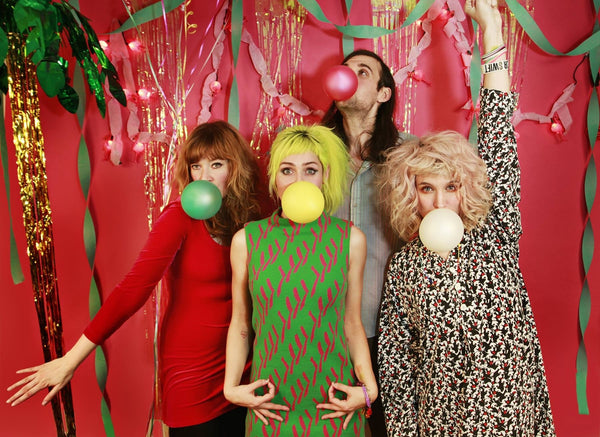 I'll readily admit that I was crazy late to the party that is Lucius. I became a rabid fan after discovering the Brooklyn based band only a few months after their song 'Turn It Around' was used in a Samsung Galaxy commercial. (See: purchased tickets for their upcoming performance at Central Park's Summerstage.) Fronted by the insanely charismatic Jess Wolfe and Holly Laesig, Lucius has an infectious sound that has you so cheery so quickly that you're soon subtly bopping your head on your morning commute.
"What will we do, what will we do, when our dreams come true?" That's the question for PINS, an all-ladies effort out of Manchester. Serving up some sixties-surfer-new wave-indie rock, the band has developed an impressive following, even making fans out of legendary Sleater-Kinney who booked them to open during the UK leg of their recent tour. After their 2015 album, Wild Nights, I'm on PINS and needles to see what they do next..
Sometimes I wonder if Tacocat named themselves that because they knew how desperately cute their band t-shirts would be if they did. Staunchly feminist, Tacocat just released their third album, Lost Time, whose songs cover topics such as abortion, workers in the service industry, mansplaining and Dana Scully from the X-Files, among others. Check. It. Out.
One of my favorite anecdotes about this next band perfectly summarizes how sweet and cheeky their music is. An all-girls group started in Spain, they initially chose the moniker 'Deers' but had to change it due to the threat of legal action. Enter: Hinds. There's something slightly sleepy about the band's debut album, Leave Me Alone, that's perfect for solo strolls in the park, lounging in the backyard, and driving to the beach. Really just put the album on, add sunshine, and enjoy.
Lia Ices has been singing and writing since 2008 and has shown no signs of stopping. Churning out an album every 2-3 years since, Lia has drawn comparisons to such lady luminaries as Tori Amos and Cat Power. As she continues to hone in on her style, I'm happy to listen to the results. Given her last album Ices released in 2014, I'm hopeful for some new jams this year or next…
When NPR included Courtney Barnett as part of their SXSW coverage, I visibly fist pumped on the subway. When she was nominated for the Grammy's Best New Artist award in 2015, I was even more tickled. Because it's all about damn time. Check out the album that made everyone else sit up and take notice – Sometimes I Sit and Think, and Sometimes I Just Sit.
I'm a Bon Iver fanatic. So when Justin Vernon got involved in the production of the Staves' sophomore effort, I sat up and took notice. I'm not sure how I missed them as an opener for the Civil Wars' tour earlier, but I'm glad they're in my rotation now. This sister act has a witchy wonderfulness on par with Florence and the Machine. Their most recent work can be found on the three-song EP Sleeping In A Car.
Bonus songs by Christine and the Queens (stage name of the divine French-born Héloïse Letissier), Meg Mac (Aussie vocal powerhouse), Mitski (SUNY-alum utilizing music to examine her cultural identity), and Aurora (only 19 years old. I cannot even.)
Photo of Tacocat via Noisey