Men Are Crucial in the Fight Against Menstruation Shaming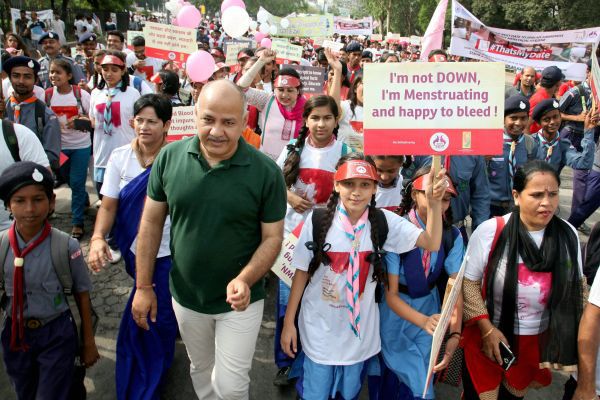 The mission to empower women around issues of reproductive health and end menstruation shaming is a big one with many incredible women invested in it. And many men too.
Men's voices are crucial in the conversation around women's health, as it is not a women's issue, it's a global issue, and the way we teach boys about menstruation is paramount in making real, sustainable progress. Speaking with Newsweek, Brooke Yamakoshi, a WASH specialist at UNICEF, said:
Boys and men can be agents of change when it comes to breaking taboos around menstruation. Engaging and educating boys and men is critical to achieving the social change we need in families, schools and society at large.
In the developing world, male menstrual heroes are stepping up to fight the taboos and help empower the women of their communities and countries.
Arunachalam Muruganantham, India's Menstrual Man, invented a machine that makes affordable pads, because of his wife's personal struggles with access to sanitary products.
Delhi Deputy Chief Minister Manish Sisodia is committed to social programs of awareness, and is consistently highlighting the role of menstruation education in both young girls and young boys.
Boys, more than girls, need to be taught about it. So the girls and women can find a support system around them and not feel alienated.
While people waste time making up and spreading rumors about hygiene products, these are the fights worth having: the fights for access and against menstrual shaming. To stand up and speak up for the underserved and break the taboos that cause so much hurt the world over. It takes men, women, and all people doing their part to make lasting change.