Menstrual Cycle 101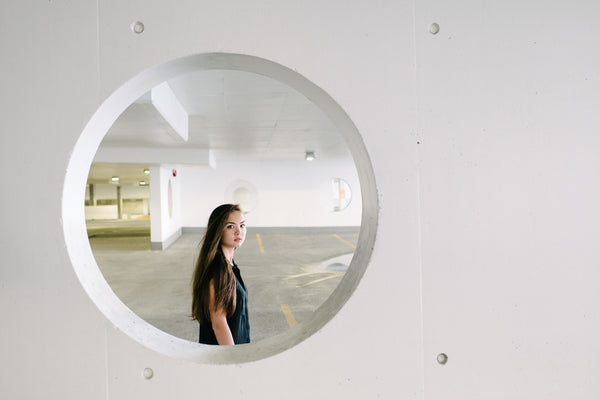 To begin with, there are four phases of the female menstrual cycle, and these phases can vary in length. When tracking your cycle, day 1 is the day bleeding starts. Your cycle ends the day before bleeding starts again (aka the new day 1). An average cycle can range anywhere between 21 and 34 days – anything within this range is considered normal. Check out this site for some useful illustrations.

Ovulation begins 12-16 days after your period starts. So around Day 14 of your cycle is often estimated to be ovulation day, based on a 28-day cycle. Ovulation occurs when the body releases an egg free from an ovary, which enables that egg to be fertilized by sperm (if viable sperm is present). Ususally the 2-3 days before and 2-3 days after ovulation are considered prime fertility time aka your fertility window, though there's some risk of getting pregnant any time you have unprotected sex.

To understand the menstrual cycle, it's easy to think of it as a play, with characters and settings.

YOUR MENSTRUAL CYCLE: A PLAY IN 4 ACTS
THE CAST:
PITUITARY GLAND: A SMALL GLAND LOCATED BEHIND THE EYES
HYPOTHALAMUS: THE AREA OF YOUR BRAIN LOCATED ABOVE THE PITUITARY GLAND
OVARY GLANDS: TWO GLANDS ON THE LEFT AND RIGHT SIDE OF THE LOWER PELVIS, LOCATED CLOSE TO THE FALLOPIAN TUBES
FALLOPIAN TUBES: TWO TUBES LOCATED IN THE LOWER PELVIC AREA THAT CARRY EGGS FROM OVARIES TO THE UTERUS
FOLLICLES: ROUND CELLULAR STRUCTURES LOCATED IN THE OVARIES; THE STRUCTURES IN WHICH EGGS GROW
UTERUS: A PEAR-SIZED MUSCLE LOCATED BETWEEN THE BLADDER AND RECTUM
HORMONES: CHEMICAL SUBSTANCES THAT ENABLE DIFFERENT PARTS OF THE BODY (LIKE CELLS OR ORGANS) TO COMMUNICATE WITH EACH OTHER. FOR FACILITATING DIFFERENT PARTS OF MENSTRUAL CYCLE, GONADOTROPHIN RELEASING HORMONE (GNRH), FOLLICLE STIMULATING HORMONE (FSH), LUTEINIZING HORMONE (LH), ESTROGEN, AND PROGESTERONE ARE ALL INVOLVED.

ACT 1 – MENSTRUAL PHASE
CHARACTERS: UTERUS
This is when your uterus sheds its lining and you bleed for several days. You may experience lovely symptoms like cramps and bloating.
ACT 2 – THE FOLLICULAR PHASE
CHARACTERS: HYPOTHALAMUS, PITUITARY GLAND, OVARIES, FOLLICLES, UTERUS
During the follicular phase, the hypothalamus (part of your brain) tells the pituitary gland to produce the hormones FSH (Follicle Stimulating Hormone) and LH (Luteinizing Hormone). The pituitary gland facilitates the product of FH and LH hormones by signaling GnRH to secrete pulses every hour. Basically GnRH is your "hypeman" hormone that rallies the other hormones to get workin'.
Thanks to the rallying presence of GnRH, FSH starts increasing. The presence of FSH wakes up follicles (cell structures in the ovaries) and some of these follicles start to grow and mature into liquid-filled sacs. Every follicle contains an egg, but only one follicle reaches full maturity, meaning only one egg fully matures.
The presence of GnRH rallies another hormone, LH, to be produced in the pituitary gland. LH then makes its way to see the ovaries. LH signals to the ovaries to wake up the hormone estrogen. Estrogen signals to the uterus to start re-thickening the uterine lining (remember that this lining was shed during your period).
Simple terms: Hormones signal follicles to start growing so that eventually one follicle is strong enough ready to release an egg; estrogen levels increase, which signals the uterine lining to start thickening.
ACT 3 – MID CYCLE
CHARACTERS: HYPOTHALAMUS, PITUITARY GLAND, HORMONES, OVARIES, FALLOPIAN TUBE, FOLLICLE, UTERUS
This happens around day 14. At this point, there is the dominant follicle (remember this is where the egg is hanging out) and it's grown to be about 2cm in size. Estrogen levels remain high for about 2 days, then the LH and FSH hormones are released in large amounts.
This hormone surge causes the egg to rupture from the follicle and starts its journey down the fallopian tube, where the egg can be potentially fertilized. When the egg breaks out of the follicle and heads down the fallopian tube, we call this ovulation, and this is the time when pregnancy is optimal.
Simple terms: The egg leaves the ovary and is sent down the fallopian tube, ready to be fertilized.
ACT 4: LUTEAL PHASE
CHARACTERS: HYPOTHALAMUS, PITUITARY GLAND, HORMONES, FALLOPIAN TUBE, EGG, OVARIES, FOLLICLE, UTERUS
At this point your body has ovulated and the second half of your cycle begins. The released egg will spend a day or two in the fallopian tube, after which the egg will disintegrate if it's not fertilized by a sperm.
The hypothalamus comes into play again by sending signals to GnRH every couple hours. GnRH is again the rallying hormone, waking up the pituitary gland to produce more LH in higher levels. The increase of LH helps produce progesterone – progesterone helps continue to thicken your uteral lining, which makes it easier for an egg to implant. The ovary produces progesterone for about 7 days.
When pregnancy occurs the levels of estrogen and progesterone stay high. If pregnancy does not happen during the cycle, then your levels FSH and LH will drop, signaling for a new cycle to begin.
Simple terms: The hormone progesterone is introduced and its presence triggers the uterus to start preparing for a baby. If no pregnancy results from the cycle, the progesterone levels will eventually begin to decrease.
ENCORE
If no pregnancy results from the cycle, bleeding will begin (aka hello Aunt Flo). Bleeding will start about 14 days after ovulation in each cycle.
---
As you can see, the woman's menstrual cycle is pretty intricate, as it involves glands, organs, and hormones. A couple common questions related to the cycle usually are:

What is the bleeding from a period?
The bleeding is the thickened uterine lining. When the uterus is shedding the lining, it is getting prepared for the next cycle to begin again.

What if my bleeding varies each month?
It is not uncommon to have irregular cycles, but if you are trying to become pregnant, try to calculate them to average your days. This will help you try to predict your ovulation. Ovulation kits are available at drugstores, but seeing your doctor is always recommended if you have any questions about your menstrual cycle.
Sources
http://www.everydayhealth.com/hormones/
http://www.womenshealth.gov/pregnancy/before-you-get-pregnant/menstrual-cycle.html
https://intermountainhealthcare.org/blogs/2014/02/ovulation-made-simple-a-four-phase-review/
http://americanpregnancy.org/getting-pregnant/understanding-ovulation/