Menstrual Delights: Cocktails That'll Make You Feel Classy AF on Your Period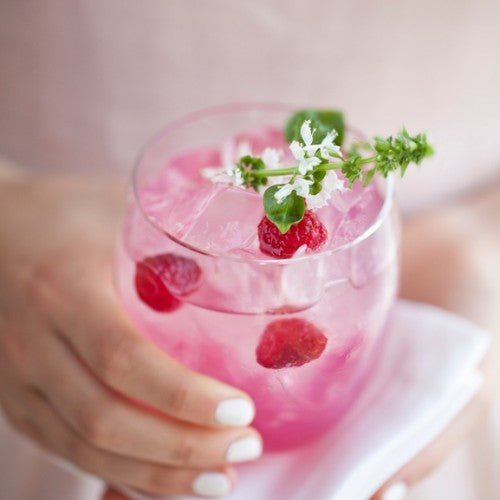 We've all been there. It's day 1 of your period and your body is whack and everyone around you is making you mad and you basically want red wine on speed dial. And that's a totally legit option. A little pinot noir goes a long way when it's that time of the month. Somedays we want to give the local wine store guy a medal for recommending yet another delightfully sufficient bottle of vino that costs less than lunch from Seamless.
But why not up the ante a bit? Red wine is great, but why not try making yourself an awesome cocktail the next time Aunt Flo visits? We know, we know, sometimes making a drink that's more complicated than a vodka soda is sort of intimidating. But making cocktails isn't just fun, it's a relaxing practice in and of itself. We scoured the internet for some period-appropriate libations that aren't just pleasant to sip – these drinks actually contain ingredients that might alleviate certain period symptoms. Yup that's right, all of the drinks below contain things that can make you feel a little better – and we're not just talking about the liquor.
So check out the drinks below and let us know what sounds good to you! Happy drinking!
Blueberries are super foods, and they are a super solution to tackling your period cramps. This vodka-based beverage contains blueberries, mint, lemons, and limes, meaning you'll feel refreshed and powered up.
Lavender does the trick when it comes to needing something soothing. This herbal cocktail is a one-way ticket to mellow town and a great option when Shark Week gets stressful.
This lighter cocktail is a spin on a gin and tonic, but the presence of cucumber adds a chill twist. Cucumbers are known for their debloating priorities, so put one of these bad boys together when you're feeling puffy.
This slightly complex cocktail packs a punch thanks to its ginger base, not to mention the presence of tequila AND mezcal. Ginger is a tried-and-true trick for alleviating nausea, meaning this drink is perfect for is stomach struggles.
Dark chocolate boosts your mood so you're entirely justified in concocting one of these libations when the period blues strike or you just need something sweet during a not-so-sweet week.