Menstrual Delights: Home Spa Edition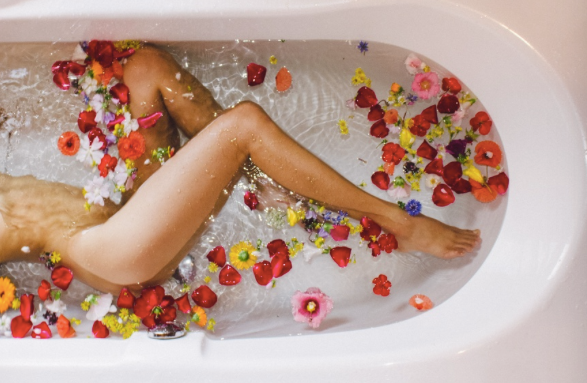 Having your period ain't easy. We get that – that's a big reason we started Monthly Gift. The physical and emotional symptoms, not to mention the general inconvenience factor, it's all pretty meh. But some of this stuff can be alleviated by adjusting your mindset, which is to say, things get better when you start treating your period like it's all about treating yo self.
You probably already have a few period go-tos – mac n' cheese, maybe you swap a mocha for your usual morning brew, or maybe you trade normal work trousers for stylish sweats. All of that ain't too shabby, but why not turn it up a notch?
This edition of Menstrual Delights is all about turning your own bathroom into a spa-like environment. We've scoured the world wide web for DIY recipes that will help you relax and center yourself during the most turbulent time of the month. Rather than break the bank at a spa, you can whip up your own natural solutions at home.
Ok, get that apron on and let's get going. Your home spa awaits!
1. GIVE YOUR FACE SOME LOVE
Hormonal breakouts are no joke. Show that pretty face of yours a little love with a homemade mask. Marie Claire has some nice (and delicious) mask recipes that require little more than what's already in your fridge drawer. Masks can calm your skin down and give you a nice healthy glow when you're feel well, less-than-glowy. If you want to do something a little more invigorating, Brit + Co has amazing recipes for custom face scrubs. Their brown sugar cucumber mix looks particularly tempting – a sweet, calming mixture for our stressed out skin? Yes please.
2. HOP IN THE BATH
Logging some hours in the bathtub is pretty common when you're on your period. But why not lux it up a bit with some DIY bath products? We found this homemade bath bombs recipe on A Beautiful Mess that looks super fun. You can create your own custom fizzy concoctions by using their basic recipe and adding specific essential oils that will help ease period symptoms. Add anti-inflammatory oils like lavender or chamomile for cramping relief or clary sage oil for some calming, balancing vibes in the bath. Another fun way to get some lavender in your life is this DIY Himalayan salt and lavender oil bath soak from Lauren Conrad's blog. Not only is it soothing, but it looks pretty dang nice on your bathroom shelf as well.
3. GET SOME GOOD SCENTS GOING
Now that we've tackled some treats for your face and your bod, let's discuss options for spreading some healing scents all over your bathroom or apartment. As much as we love a fancy scented candle (expect at least one future blog post dedicated to said topic), those can get pretty pricey. Take a stab at making your own scented candle with this recipe from SheKnows. Take some cues from this period-friendly essential oil blend if you really want to tackle those menstrual menaces. And if the thought of a homemade open flame distresses you, you can instead get crafty with this homemade oil diffuser project from the Prairie Homestead.
Alrighty, that's all we've got for Menstrual Delights: Home Spa Edition. Don't forget to treat yo self oh so well next time it's your time of the month!