Monthly Gift. Rings the NYSE Opening Bell with Days for Girls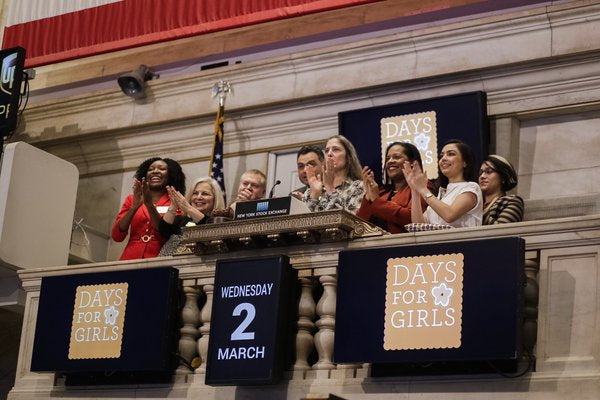 This morning we were lucky enough to ring the opening bell for the New York Stock Exchange alongside our philanthropy partner, Days For Girls, an organization dedicated to ensuring girls and young women all over the world have access to safe, sustainable feminine hygiene solutions and health education.
The bell-ringing experience was surreal. When you see the NYSE in movies you always think "Well, this must be an exaggeration" but now I can say firsthand, it is even crazier in real life. Taking that first step into the room was incredible, you can feel the electricity (literally, there are thousands of computers). Everyone I met was incredibly friendly and welcoming, including the President of the NYSE Group. I wasn't 100% sure what to expect but I thought the entire process would feel very rushed – in and out, ring the bell, and get kicked out – but the experience was quite the opposite, ringing the bell felt ceremonious and special.
I'm honored that Monthly Gift. was alongside Days For Girls during their moment today and I can't wait to continue our partnership to empower women both in NYC and all over the world to take control of their health and their futures!
PS – While I was at the NYSE, I only saw about 2 women employees. I hope in the future we get more women out there, dominating the trading floor :)!