Dear Kate's Favorite Feminist Reads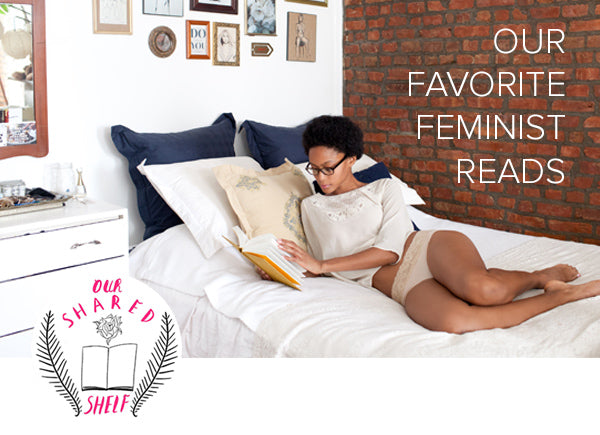 In 2016 the actor and UN Women's Goodwill ambassador Emma Watson launched her feminist book club "Our Shared Shelf", just one year later the club boasts over 200,000 members and is our go-to destination for reading recommendations. What better day than National Book Lover's Day to share some of our favorites!



HOW TO BE A WOMAN by Caitlin Moran

Though they have the vote and the Pill and haven't been burned as witches since 1727, life isn't exactly a stroll down the catwalk for modern women. They are beset by uncertainties and questions: Why are they supposed to get Brazilians? Why do bras hurt? Why the incessant talk about babies? And do men secretly hate them? Caitlin Moran interweaves provocative observations on women's lives with laugh-out-loud funny scenes from her own, from adolescence to her development as a writer, wife, and mother.
EMMA SAYS: "Caitlin Moran is an English hero of mine who I think you need to know. I read 'How To Be a Woman' on a plane from London to New York and I laughed out loud and cried so much I think the whole of my cabin, airline staff included, thought I was losing my mind."
 THE COLOR PURPLE by Alice Walker

Set in the deep American South between the wars, THE COLOR PURPLE is the classic tale of Celie, a young black girl born into poverty and segregation. Raped repeatedly by the man she calls 'father', she has two children taken away from her, is separated from her beloved sister Nettie and is trapped into an ugly marriage. But then she meets the glamorous Shug Avery, singer and magic-maker - a woman who has taken charge of her own destiny. Gradually Celie discovers the power and joy of her own spirit, freeing her from her past and reuniting her with those she loves.
EMMA SAYS: "I've heard amazing things about this book from a person that I trust. The musical is currently on Broadway (starring Cynthia Erivo, Jennifer Hudson and Danielle Brooks) and a film was made of the book in 1985 by Steven Spielberg. It was Oprah Winfrey's film debut and introduced Whoopi Goldberg (I love both of these women). I'm excited to read it and maybe do some watching too."




THE HANDMAID'S TALE by Margaret Atwood

Offred is a Handmaid in the Republic of Gilead. She may leave the home of the Commander and his wife once a day to walk to food markets whose signs are now pictures instead of words because women are no longer allowed to read. She must lie on her back once a month and pray that the Commander makes her pregnant, because in an age of declining births, Offred and the other Handmaids are valued only if their ovaries are viable. Offred can remember the years before, when she lived and made love with her husband, Luke; when she played with and protected her daughter; when she had a job, money of her own, and access to knowledge. But all of that is gone now...
EMMA SAYS: "Margaret Atwood wrote The Handmaid's Tale over thirty years ago now, but it is a book that has never stopped fascinating readers because it articulates so vividly what it feels like for a woman to lose power over her own body"
PERSEPOLIS by Marjane Satrapi

The intelligent and outspoken child of radical Marxists, and the great-grandaughter of Iran's last emperor, Satrapi bears witness to a childhood uniquely entwined with the history of her country. Persepolis paints an unforgettable portrait of daily life in Iran and of the bewildering contradictions between home life and public life. This is a beautiful and intimate story full of tragedy and humour - raw, honest and incredibly illuminating.
EMMA SAYS: "As Iran enters another important period of change, with relations re-opening with much of the world, I think this is a particularly good time to pick up Persepolis. Satrapi's deceptively simple, almost whimsical drawings belie the seriousness and rich complexity of her story--but it's also very funny too."
To keep up with Emma's monthly recommendations, join Our Shared Self
here