Non-profits Working to Provide Femme Care Products to Those in Need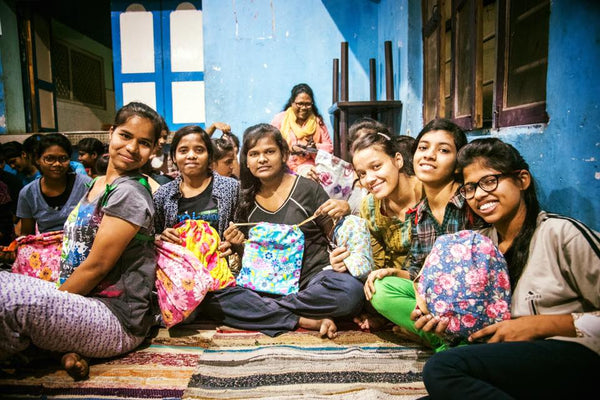 'Tis (always) the season for caring for those in need. Here are a few organizations providing femme care products to underserved communities:
DfG (featured above) provides high-quality reusable Feminine Hygiene Kits to girls and women in 100+ countries around the world. Their goal is for every girl and woman in the world to have access to quality sustainable hygiene & health education by the year 2022. A single DfG Kit can cover a girl for an accumulated six months of menstruating within a three-year timespan.
Camions of Care was started by formerly homeless 16-year-old Nadya Okamoto and delivers 1,500 care packages of feminine products to the needy each week in the Portland, OR, The group has 2,200 volunteers nationwide. After observing firsthand how feminine hygiene products weren't available to homeless women, Okamoto started CoC by securing several grants, awards, corporate sponsorships, and partnerships with several shelters and other social service agencies – all as a teenager. At the time of writing this article, Camions of Care's website says they have addressed 48,993 periods.
Distributing Dignity provides not only pads and tampons, but also bras, to women in New Jersey and Pennsylvania. These women are homeless, seeking refuge from abuse, displaced by disaster, struggling with life-altering illnesses, or in and aging out of foster care.
Support The Girls has a similar mission, with locations in Australia, Chicago, Cleveland, Indianapolis, Knoxville, Northern Virginia, and Phoenix. In the past twelve months, they've distributed 75,000 bras and 177,000 feminine hygiene products worldwide.
Dignity Behind Bars provides pads and tampons to incarcerated women. Women in prison often menstruate simultaneously, leading to shortages in feminine hygiene products. Even if you can't contribute financially, you can help them by contacting your local women's correctional facility and requesting a copy of their commissary list, then sending it directly to DBB's parent organization, A Woman's Worth. Incarcerated women can also contact A Woman's Worth directly to ask for hygiene products.
Free the Tampons' mission is to make tampons and pads available in restrooms outside the home, has a whole section of their website dedicated to women's stories about getting their period unexpectedly in public. They also have a nifty infographic about how many women have had this happen to them (spoiler: it's a lot!) and how they have handled it.