OUR NEW COLLECTION: VALENTINA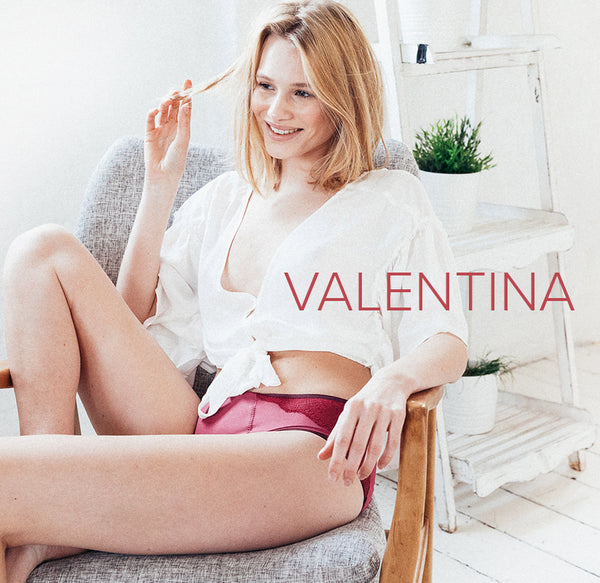 Whether you're going out or staying in this Valentine's Day, you've got a date with the coolest gal in town. Introducing our new, limited edition collection:
Valentina
.
Available in three gorgeous styles and all featuring our worry-free Underlux™ Technology, Valentina is designed to empower women with her silky feel and elegant look. She pairs perfectly with a box of chocolates and a (big) glass of wine.
February is all the love and this month we're celebrating our favorite kind: self-love. With our #28DaysOfSelfLove campaign, we're encouraging you to do the same. And if you're consistent with your self-loving ways, you could WIN a full set from the new collection.
For 28 days, the length of one cycle, we challenge you to perform not-so-random acts of kindness—for yourself. Because if you can't love yourself, how in the hell are you gonna love somebody else! Amen Ru Paul 🙌
Here's how it works:
Step 1. Take (really good) care of you.
Step 2.  Share your acts of kindness throughout the month on Instagram with the hashtag #28DaysOfSelfLove (make sure you tag us @dearkates).
If you prefer to track your journey through a diary, you can download our printable Self-Love log here. Submit your completed log to us at hello@deakates.com by the end of the month and you'll be entered to win!
Some ideas: Go on a walk, Take yourself to dinner, Get a massage, Call a friend just to say hello… the possibilities are endless
Consistency is key. Just like going the gym, no one expects you to go every day, but the more days you do go, the better you feel, right? So celebrate #28DaysOfSelfLove with us, and love yourself as hard as possible.
A (very) limited collection, Valentina won't be around before so scoop her up before she's gone.