What's the Deal with Coconut Oil?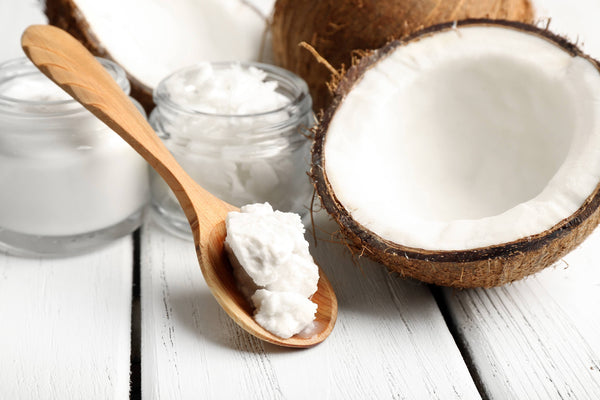 It feels like people are using Coconut Oil for just about everything these days. People cook with it, moisturize with it, burn it and even feed it to Fido. So what's the deal? Should we be stocking up too or is it just a passing fad?
What is it?
Coconut oil comes from the inside of mature coconuts. In the late 1960's the use of coconut oil in the US was primarily phased out because of the belief that oil led to heart disease. Its resurgence is due to new studies in science that have proven this specific kind of oil is not detrimental.
In the states, the idea of a saturated fat oil being good for us seems counterintuitive to everything we learned in health class. Well, not all saturated fats are created equal. Lauric acid, a product in coconut oil can help your HDL aka your good cholesterol levels.
Meanwhile, people in South Pacific Islands, Asia, Africa and the Central America have used coconut oil for many, many years. These cultures continue to show lower rates of heart disease, cancer, arthritis, and other dangerous health conditions.
What does it do?
Helps with healing: With its antioxidant, antibiotic properties, and collagen, coconut oil has also been used in studies to help heal wounds.
Stabilizes Blood Sugar: Studies have shown that ingesting coconut oil can lower blood sugar over time. Other studies have shown positive effects on insulin resistance, making your body use the insulin better.
Kills the Bad Stuff: Coconut oil is extremely high in Lauric acid, giving the best antiviral, antifungal, and antibacterial effects out there!
Aids in weight loss: Studies have shown a decrease in body fat and weight with coconut oil supplementation. You don't have to eat spoon full every hour though. Remember that a little does go a long way!
Coconut Oil and Self-Care
Skin Moisturizer: Try using a little bit of coconut oil after your next shower or bath. You will be amazed how moisturized your skin will feel.
Hair Conditioner: While you are in the shower, try a very small amount of the coconut oil on the ends of your hair. It can work better than hair conditioner!
Hand, Nail, and Cuticle Repair: Has the dry weather taken a toll on your hands? There is nothing better than coconut oil to help give some TLC to your poor hands. Rub a very small amount into your cuticles and around the nails to help repair and smooth your hands.
Shaving Cream: Yes, you can use it as a shaving cream too! The water will roll right off of the oil, and when your razor goes over your skin, the leg is moisturized well. It will leave your skin soft, moisturized, and free from razor burn. (Make sure you wash the bottom of the shower well or the next person who steps in may fall.)
Flyaway Frizz-Fighter: Take a very small amount and apply it to those flyaways to give your hair a little bit of weight on those dry or humid days. Again, try to stick to the ends of your hair, or it may look greasy.
Try the trend and see what works! You'll be surprised what you find coconut oil can do for you and you may in fact fall in love. Share your experiences in the comments below.
---
References:
http://www.medicaldaily.com/hypertension-subsides-coconut-oil-and-exercise-harnessing-latest-superfood-321554
http://www.healthline.com/health/coconut-oil-for-skin#3
http://www.innovareacademics.in/journals/index.php/ijpps/article/view/6203/3054
http://www.hygeiajournal.com/Downloads/1075302624r-3%20Coconut%20Oil%20revised(2).pdf