What's the Deal with Swimming on Your Period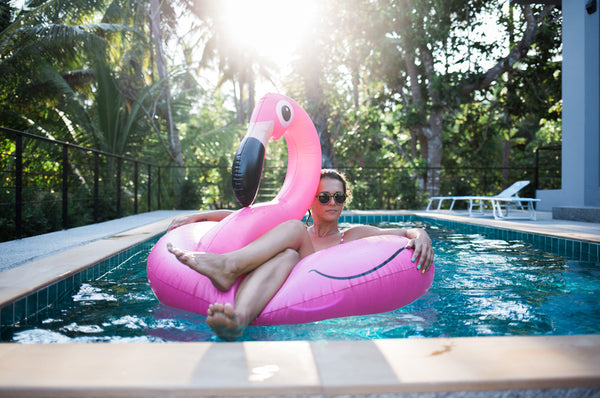 'Tis the season for bikinis and sunbathing, and with the holiday weekend upon us, you're likely suiting up for three days of pool-time, neon floats and any color booze.
If the stars have perfectly aligned and you find yourself on your period at this time, never fear – there is still fun to be had! You're normal too, don't forget that. No matter how meh you may feel, don't let Aunt Flo keep you indoors while the rest of the world is celebrating America's Independence and a weekend that's basically one long happy hours.
Here are some tips on how to get in that much deserved beach/pool time while you're on your period this 4th of July weekend:
Swim! Do it. You're totally allowed. Swimming on your period is completely safe and healthy. Ignore the myths (i.e.: sharks have a specific hunger for menstruating women – NOT TRUE), embrace the fun.
Wearing a tampon is the way to go. Pads and liners will get wet and soggy in the water, which means they won't be able to do their job of absorbing leakage (and they will make for a pretty uncomfortable affair). Tampons are functionally invisible to the eye, just a simple tuck of the string and you're golden. If you're sporting that itsy bitsy bikini because you just have to, you can trim the string (a little bit).
Grab a few extra tampons for the road because you'll be out all day and you'll need to change it every three or four hours if it's a heavy day. Also, sharing is caring, and it's always nice to be the friend with a tampon to spare.
If you're worried about leakage, wear a dark suit – if you're going for the red, white and blue motif with your outfit, maybe your bikini bottoms are blue and so on… Or wear that white number with confidence and just remember to check-in on your situation every few hours. Also, be on the buddy system – friends don't let friends leak and lounge.
This weekend is about letting loose, having a good time and hopefully watching some boss fireworks, and you deserve all those things! Just be prepared (and safe), then get out there and have all the fun!