Women on the Fringe: How Homeless Women Deal with their Period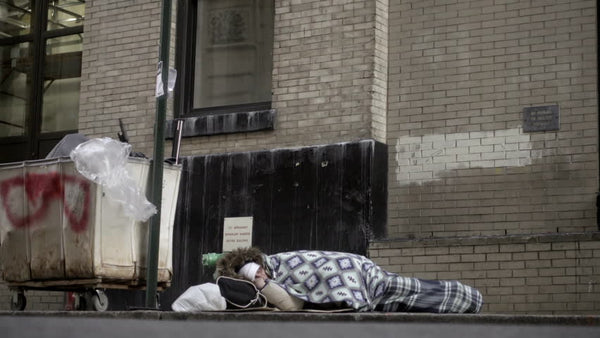 Fifty-thousand women in the United States live on the streets. Human basics like food, water, shelter and safety are beyond difficult to come by. So, where does that leave homeless women the three to six days each month when their period comes?
With limited access to most things, the dire ways which homeless women deal with their period are heartbreaking. They are forced to steal products or wait for outreach that is largely not there. They use socks, toilet paper, or towels as makeshift pads. Some make tampons out of anything absorbent they may be able to find, often resulting in potential harm to their reproductive organs. Then there are the rest who free bleed in their clothing, their very limited wardrobe. These women struggle to find places to wash themselves and their clothing, often stripping them of the simple dignity that most of the population takes for granted. Their health is additionally compromised and endangered these three to six days each month as they try to make due the best they can.
Basic hygiene shouldn't be a luxury; it should be afforded to all people.
More shelters are stocking feminine hygiene products, but nearly all are not required to have them. In fact, New York City is the first city to require that homeless shelters provide free pads and tampons. In an effort to gain menstrual equality, New York City council member, Julissa Ferraras-Copeland lead the charge to give all women in public schools, prisons, and homeless shelters access to free feminine hygiene products. This proposal is estimated to provide New York City homeless shelters with 3.5 million pads and two million tampons annually. The motion was passed with a 49-0 vote and signed into legislation by Mayor de Blasio.
So, what about all the other cities, townships, and villages that aren't New York City? It is often left to the private sector and private citizens to support these women who have somehow become invisible in our society. While there is still much to do, here are a few great organizations who are letting homeless women know they matter:
Distributing Dignity: This organization supplies new bras, pads, and tampons to women in need as a way to help them to preserve their dignity. They give to 70 partners in 52 cities across the country.
#Happy Period: A social movement of "girlfriends" providing menstrual hygiene kits to anyone homeless, low-income, or living in poverty. This organization has chapters doing their good work all over the country.
I Support the Girls: This organization supplies bras and hygiene products to the homeless. They have affiliates all over the US and Canada.
PERIOD: Started by a teen, this organization makes period packages and then partners with local shelters to distribute them to homeless women.
Of course, you can always do what many of the women who started these and many other local organizations do, and that's start your own movement in your city. Donate a box of tampons or pads or other hygiene supplies to your local homeless shelters or make up bags to handout to the homeless you see every day. It seems like a small step, but it's a meaningful one.
Let homeless women know they aren't invisible and that they matter in our society. Let's help lift our sisters up.