Summer Blockbusters Featuring Badass Babes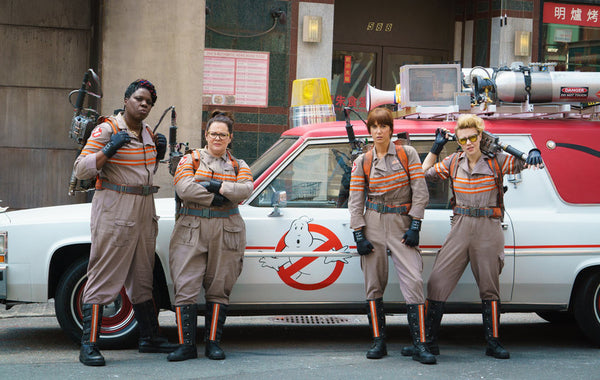 You know it's officially summer when you find yourself fully drenched in your own sweat on the subway platform, after only a three block walk, and it being only 8:00AM. I for one always find the humidity and heat to be a great excuse to duck into a movie theater. Popcorn, A/C, and cinema – what more could you want on a 90° evening?
Here are some of the titles that I'm looking forward to seeing in cool, climate-controlled environment:
Ghostbusters (7/15 aka out now!) – Well, duh. Directed by Paul Feig, and co-written by Katie Dippold, Ghostbusters re-vamps the 80's classic for the modern era with a gender-swapped (but still paranormal ass-kicking) cast, a move that proved surprisingly controversial for the internet fanboy trolls. Early reviews are showing a lot of love for Kate McKinnon in her first major lead role and a surprising amount of appreciation for Chris Hemsworth in a truly funny turn as the group's Boy Friday. Melissa McCarthy and Kristen Wiig re-partner with their Bridesmaids' director, joining SNL rock star Leslie Jones, to round out the cast. Run, don't walk, to your nearest theater.
Tallulah (7/29) – Sian Heder has been writing great material for a few years now at Orange is the New Black. Tallulah, which premiered at Sundance, showcases her knack for features both as a writer and a first-time director, evidenced by how quickly Netflix jumped at the SVOD rights. Still, the film will get a turn at art house theaters around the country, which is a blessed relief for those looking to enjoy this moody, gorgeously-lensed, wry drama on the big screen. Featuring Ellen Page in one of her best roles to date, Tallulah shows the messiness of maternal love from a wealth of perspectives. Allison Janney is also quite enjoyable here.
Miss Sharon Jones! (7/29) – It might be a bit hard to see given the limited release, but Miss Sharon Jones! is worth the effort. Helmed by Academy Award winner Barbara Kopple, the doc follows the titular Miss Jones during a year in which she's been diagnosed with cancer and is struggling to keep herself and her band, the Dap-Kings, together. Kopple includes footage from a trip home to allow an unfamiliar audience some context for the great soul singer. Truly life affirming, despite the bleak prognosis, in no small part due to the indomitable Miss Jones..
Five Nights in Maine (8/5) – I'll be honest, what initially drew my interest to the title wasn't Director Maris Curran, but David Oyelowo in a quiet turn about an African American man whose lost his wife unexpectedly, and his Caucasian mother-in-law played by Dianne Wiest, whose lost her daughter. But the film is so impactful, ruminating on the effects of loss when it brings people together, rather than pull them apart, that I am now itching to see what Curran tries her hand at next. Jane Campion has some quiet influence here, admittedly as the director holds her in great esteem. Likewise, sister. Likewise.
A Tale of Love and Darkness (8/19) – Full disclosure: I have not seen this film yet. Still I feel right in its inclusion, because I have the highest of hopes for a film that has long been the passion project of its lead, and director, Natalie Portman. Adapted from Amos Oz's similarly titled autobiography, A Tale of Love and Darkness is the story, really not of Oz, but of his mother, Fania, and the choices she made for and in the pursuit of love. Given the fact that Portman optioned the book nearly 8 years ago, I'm curious to see what she's made of it, after all this time.
Photo courtesy of Ghostbusters